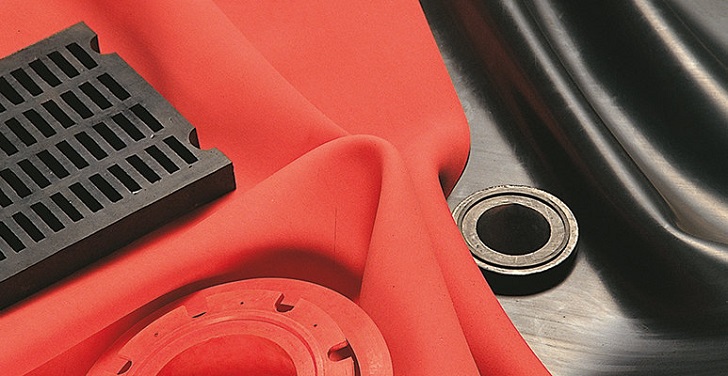 Despite considerable research into the mechanics of abrasive wear, the choice of rubber lining in a particular mining or quarrying application remains complex and experience-based; but one thing you can be sure of is that hardness and price per kilogram are just two of the many factors to consider when making the choice.
The mining industry has fallen into the habit of specifying rubber by hardness alone. Hardness, on its own, is not a measure of performance and engineers should be aware that hardness is not a reliable guide for suitability of sheeting for abrasion resistance.
Other important factors including resilience, tensile strength, tear strength, cutting resistance and dry/wet abrasion resistance index (ARI) need to be considered to ensure the option selected is fit for the application.
Quality variations
The quality of rubber sheeting varies widely within the industry. Rubbers which are formulated for dry abrasive applications may not be suitable for wet abrasion applications. An essential primary step is to assess the application requirement when selecting the type of rubber sheeting. The choice of rubber sheeting for a particular process has a significant impact on the total cost of ownership of equipment and ultimately the performance of a mining or quarrying operation. Rubber linings form a barrier between corrosive, volatile or damaging compounds that can cause significant harm to onsite workers and the surrounding environment if a breach occurs.
Rubber sheeting has been used for almost a century to protect plant and equipment from wear and chemical attack, but has had to compete increasingly with synthetic elastomers, polymers, ceramics and other abrasion resistant metals.
Meanwhile, there is considerable debate about the best kinds of rubber. This is namely a debate between synthetic rubber linings and natural rubber linings. Though 70% of rubber used in industrial applications is synthetic, natural rubber is considered more suitable for wet processes, namely pumping and slurry separation.
Nonetheless, rubber as a protective material has retained its position as the preferred wear material for fine slurry abrasion resistance, as well as impact and chemical resistance in the mining industry. But let's take a closer look at the different rubber lining products available on the market and the different functions each serve. Ultimately, your choice of rubber will depend on application.
Abrasion in wet conditions
Most processes used in the mining sector to recover base and precious metals, coal, diamonds and other minerals involve the suspension of solids in water. Natural rubber is considered the most suitable wear material in such applications where wet abrasion is found; for example, in the pumping and separation of fine particle slurries
Equipment used in these wet minerals beneficiation processes is frequently lined with pre-cured rubber sheeting. Where mines, fabricators and applicators have access to an autoclave or open steam facility, steam cured rubber sheeting could be used. Chemical curing is another option as chemical cured rubber will have increased durability.
Linatex premium rubber
According to the manufacturer, Linatex premium rubber has superior physical properties due to the unique manufacturing process employed by Weir Minerals.
The manufacturing process used to make the renowned Linatex product incorporates 'liquid phase processing' and ensures the original molecular structure of natural rubber is retained. This is critical to the performance characteristics of the product since, unlike conventionally milled compounds which have fillers such as carbon black or silica, Linatex premium rubber has no fillers and is as close to natural latex as possible.
The proprietary manufacturing process ensures Linatex premium rubber is consistent in finish and performance, and eliminates the uncertainty and possibility of premature failure in the field, a frequent concern when using uncured or inferior quality products.
The combination of a high wet ARI (Abrasion Resistance Index), high resilience and tensile strength, with a bimodal molecular weight distribution, gives Linatex rubber its superior performance in fine slurry applications.
Another important advantage of the manufacturing process used is that it's possible to achieve absolute consistency in terms of material properties. This consistency ensures the highest quality standards are maintained and translates into a major cost advantage for end users, with a reduction in the total cost of ownership for equipment lined with Linatex premium rubber.
With over 90 years' experience in handling high wear materials, Weir Minerals' Linatex premium rubber is still ranked as the best wear resistant rubber for sliding abrasion and there are no competitors when it comes to a wear lining in wet abrasion applications.
Abrasion in dry applications
Abrasion occurs where dry materials, such as ore, aggregates and gravels, are transported for further beneficiation or processing. This could be via wheeled or tracked equipment, conveyors, transfer chutes or screens. In these applications, rubber provides both good dry abrasion resistance, as well as impact resistance.
Traditionally, steel liners are used in many of these applications; however, a rubber liner will eliminate many of the problems commonly associated with steel liners.
A combination of natural and synthetic rubber produces a liner that has enhanced resistance to cutting and gouging, while further benefits include rubber's resilient properties, which results in a significant reduction in structural shock and has a knock-on effect on unscheduled downtime.
The weight of rubber compared to steel also allows for easier handling and installation, while the energy absorption properties of rubber assist in reducing noise. All these factors have a positive bearing on health and safety for a plant and its workers.
When selecting the thickness of the rubber, a number of factors must be taken into account to ensure the lining will meet the application requirement. Depending on the application, this could include drop height, angle of impact and material velocity, as well as the type and size of material being transported.
Linard 60 rubber
The main factors that influence wear in dry applications are impact, cutting, chipping and fatigue wear. To counter this type of abrasion, Weir Minerals developed the highly reinforced Linard range of rubber compounds.
Moulded Impact Panels — particularly the 'MAP' Panel (Modular Anti-abrasion Panel), developed specifically for medium to high wear applications — offer impact and abrasion resistance. Panels are compression moulded and available in thicknesses of 30mm and 50mm. The panel features an interlocking design and secure fastening mechanism that reduces the chance of fine material ingress between panels. Applications include mining and minerals processing plants, aggregates handling facilities and dredging operations.
Weir Minerals' Linard 60 rubber is a silica reinforced natural rubber product with good dry abrasion resistance and a high resilience to cuts and tears. The product is designed to handle coarse materials, and the incorporation of silica facilitates excellent anti-sticking properties. Due to its relatively low friction coefficient, it is also suitable in applications where material build-up is likely. The product is also suitable for hose linings, screen panels and skirting rubber.
Linard HD range
The Linard HD range of products is a natural and synthetic rubber blend designed with exceptional toughness and natural elasticity. Suitable for high impact applications or the handling of coarse aggregates, this range is particularly resistant to cutting and gouging.
Linard HD products are used successfully in heavy duty crushing and screening applications such as those found in the hard rock mining sector.  
Specialised rubber is also used to provide corrosion protection in environments where chemicals and acids are used. Think lining storage vessels or tanks used for chemical containment.
It is critical to understand the composition of the materials being stored in a particular vessel. It is imperative the lining is capable of withstanding the harsh effects of whatever chemical or acid is being stored and able to adequately protect the vessel's metal surface.
The Linagard range
The Linagard range of products has been specifically designed for use in such specialised applications and will protect the substrate against attack from acids, oils, chemicals and harsh UV rays. A food grade rubber sheet is also available.
Rubber has important material properties that make it particularly suitable as a liner in applications where wet and dry abrasion and impact are present. It is also ideal for application in highly corrosive environments.
Rubber is also a tremendously malleable material when it comes to processing. Rubber can be changed and cured in order to meet the requirements of different applications, which is especially important in a mining operation, where different processes will require varying levels of resistance to wear and different degrees of maintenance, which is important when accounting for efficiency and cost.
Using rubber as a wear lining material means:
Less downtime
Fewer maintenance call-outs
Lower inventory
Lower running costs
Better safety due to noise reduction
Using the right protective rubber product in your operation will have a significant impact on your bottom line by lowering your total cost of ownership, improving the efficiency of processes via improved fluid flow rate and other factors, dramatically increasing Mean Time Between Failures (MBTF), and preventing disaster in the form of breaches and excessive leakage which can spill out into the environment. It's no overstatement that the right rubber lining can mean the difference between a successful mining or quarrying operation and an operation that ends up incurring costs and damaging the reputations of operators.
About the author
Mark Doyle is the Global Product Manager of Rubber Lining for Weir Minerals. Mark has worked in the industry for 13 years, bringing a wealth of knowledge to the company and its customers. His passion is rubber lining, and he is dedicated to optimising the Linatex(R) rubber portfolio for the mining and sand and aggregates industries.