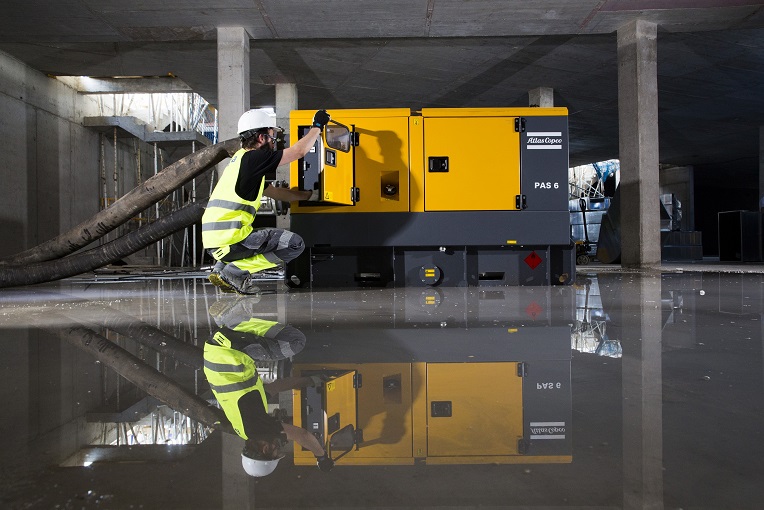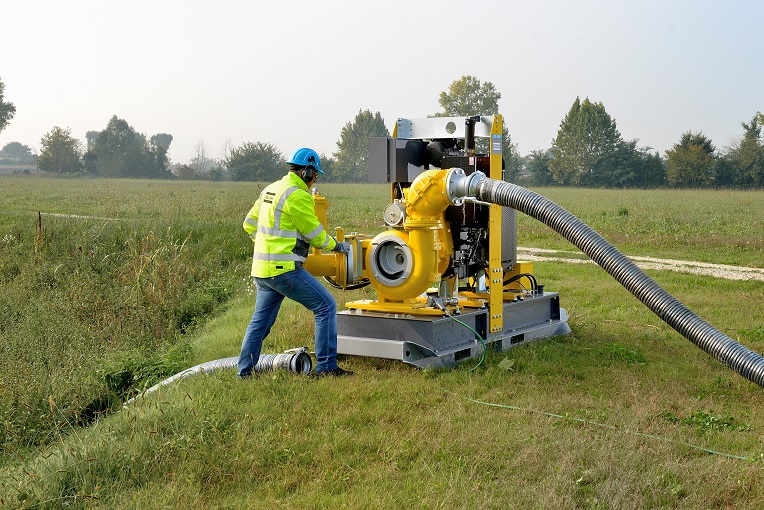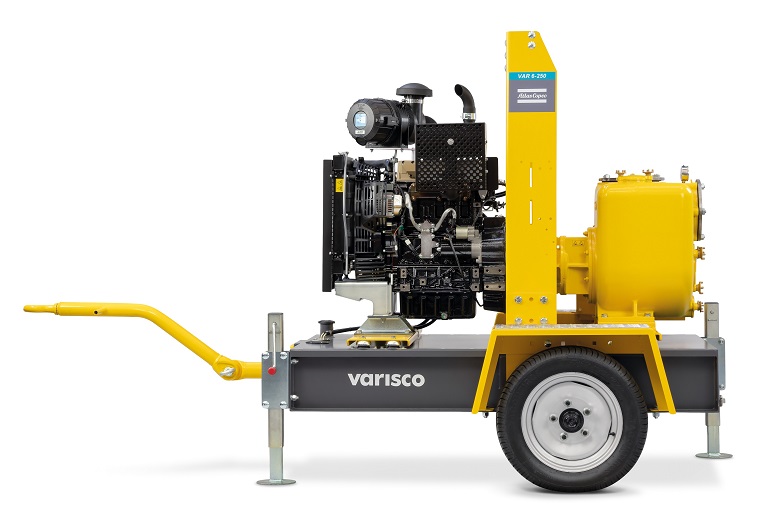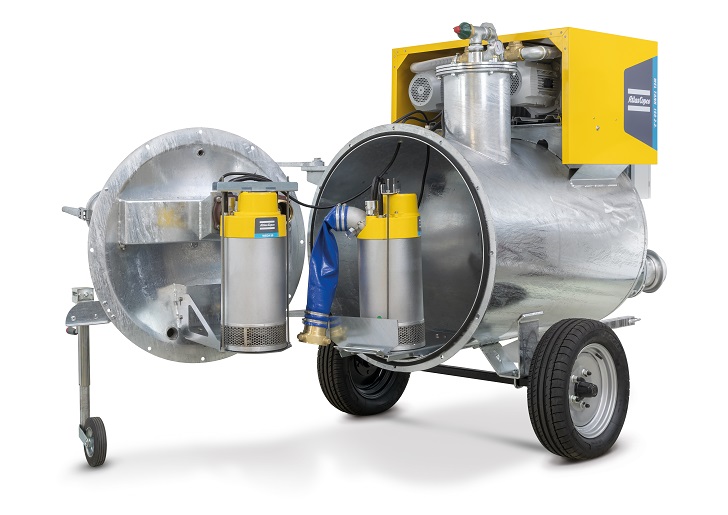 A careful choice of surface pumps will ensure that users achieve optimum results. Wim Moors, vice president Marketing Flow at Atlas Copco Power and Flow, gives an overview of the company's range of products in this category.
Although surface pumps are versatile in their uses, you must make a careful choice if your main dewatering objectives are to be optimally achieved. These machines vary considerably in the technology that equips each one for a different set of jobs and circumstances. Below are five key considerations that will help you choose the right type of surface pump for your application.
Surface pump categories Atlas Copco surface pumps are divided into the following ranges:
• Centrifugal dry prime (PAS)
• Centrifugal wet prime (VAR)
• Wellpoint (WEL)
• Centrifugal wet prime plus vacuum assistant (WEL ECO)
• Piston positive displacement (WEL PST)
• Modular vacuum and submersible system (WEL TANK)
All categories are self-priming, although the wet prime models initially require manual filling of their pump cavity with liquid.
Dry prime (PAS) pumps have a suction system, which rapidly draws liquid in, so there is no need for initial manual priming. It means you can start pumping from the moment you turn the switch. Compared to the wet prime (VAR) range, these pumps offer faster flow rates, higher lift capabilities and greater energy efficiency. They are suited to pumping larger volumes of liquid and handling bigger solid particles.
Although dry prime is superior in those respects, wet prime has advantages too. VAR wet prime pumps are more portable and are therefore suited for areas where access is difficult, and terrain is rough. With their relatively simple construction and fewer components, they are lower in price, easier to maintain, and offer a long and reliable service life even in tough conditions. Once filled, they are selfpriming, provided that the liquid level remains above their impeller.
Both PAS and VAR pumps are specially designed to handle dirty water with a high solid content. By contrast, applications for wellpoint pumps (WEL) involve comparatively clear sources such as groundwater. They are fitted with filters to remove sand and other small solids.
In wellpoint dewatering, narrow shafts are injected into the ground to create small wells, which are then connected to a pump. This method is typically used to reduce the groundwater level when it is close to the surface, or to remove water completely from a structure. The compact, robust WEL pumps use vacuum assistance and are technologically adapted to handling a high percentage of air.
WEL ECO centrifugal pumps are best for larger areas of application, while WEL PST piston positive displacement pumps give an energy-efficient and low-maintenance option for smaller jobs. Finally, WEL TANK offers the benefits of all these technologies for situations where liquid is present intermittently, as they will cope with dry running and high proportions of air in the flow.
Dewatering Today, flooding due to unusually high rainfall and overflowing of rivers, reservoirs or other water bodies is a common problem in many areas. On construction, quarrying and mining sites there is the additional issue of groundwater, which appears as excavation lowers the land surface. Groundwater is also a problem during tunnelling operations.
When alleviation of a heavy flood requires rapid removal of water, a powerful PAS dry prime pump is the obvious choice. This is particularly true when the water has a high solid content. For small or medium-sized floods, especially in less accessible places, a VAR wet prime pump may be the easier option.
These pumps are also suitable for reducing groundwater and accumulated rainwater on construction sites, so that workers can operate more safely. However, a more specialised solution for lowering groundwater level before excavation for footings is wellpoint dewatering using WEL pumps.
Wellpoint pumps will efficiently extract a flow of water and air from the ground material to achieve and maintain the necessary reduction in its level. Depending on the size of area involved, users can choose between WEL PST piston positive displacement models, for lighter duties, and higher-flow WEL ECO centrifugal pumps for large sites. Constant ingress of groundwater when excavating tunnels can be similarly controlled using the wellpoint approach and WEL pumps.
Sewage Urban sewer system maintenance often requires pumping of sewage from one part of the system to another. In addition to this planned sewage bypass work, there are emergency situations where pumps are needed to remove effluents overflowing from sewers, treatment plants, sludge tanks or slurry pits. The increasing incidence of heavy rains and flooding is making this a regular occurrence.
To pump liquid laden with such materials, your best choice is a PAS dry prime pump. In addition to its strong pumping performance and ability to handle suspended solids, it provides the necessary robustness and serviceability for use in arduous duties. In particular, the portable models are designed with hingeddoor service access. This allows easy opening of their casing, in the field, so that any accumulation of solids can be quickly cleared before restarting the unit.
"Wellpoint pumps will efficiently extract a flow of water and air from the ground material to achieve and maintain the necessary reduction in its level."
Polluted soil Surface pumps can play an important role in projects to remediate polluted soil as part of sanitation works. As well as removing contaminated groundwater for treatment, and stabilising the terrain, they can be used to dewater and dry pipelines.
WEL wellpoint pumps are suitable for this kind of application, thanks to their ability to extract water from ground materials and shallow structures, despite the flow's high air content.
Specialised applications The most common uses of surface pumps are summarised above, but there are many more specialised situations where they can be applied.
Ballasting and de-ballasting of ships, for example, is another job for which PAS dry prime pumps are ideal. It involves pumping sea water into and out of ballast tanks, during loading and offloading operations, to maintain the vessel's trim, stability and structural integrity. The build quality and strong, reliable performance of these pumps is important here.
A further application for wellpoint pumps is in dewatering onshore pipelines used to transport crude oil or natural gas. This is essential to guarantee the quality of the hydrocarbons, prevent formation of hydrates and protect the pipeline from internal corrosion. The effectiveness of a WEL pump is invaluable in this task.
Within the Atlas Copco surface pump ranges, users will find a diverse collection of models and options designed to meet very specific demands. For instance, the VAR wet prime range includes pumps specifically adapted for handling abrasive liquids and bentonite mud. Meanwhile, a recent addition to the WEL range combines vacuum and submersible pump technologies to achieve high flow with low energy consumption.
Conclusion In simple terms, if users are dealing with dirty and solid-laden water they need a dry prime (PAS) or wet prime (VAR) pump. Dry prime wins on fast performance and high efficiency, while wet prime scores especially well on portability and low maintenance. If users are extracting relatively clear groundwater, or completely dewatering a structure such as a pipeline, a wellpoint (WEL) pump is the answer.
While this guide will direct users to the pump category best suited to their application, precise matching of models and options to a particular circumstance will require further input. An Atlas Copco specialist will be careful to look at factors such as site location and conditions, solid content and particle size, and flow and lift requirements, before identifying the correct pump type to the customer.