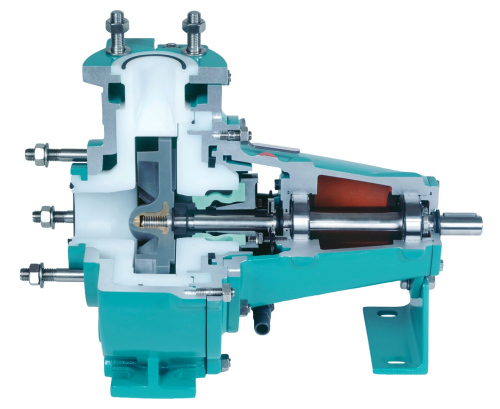 For wastewater treatment companies, wet chemicalscrubber circulation applications for odour control provide essential environmental control systems. To be truly effective they demand a high plant availability at all times, which means that the mechanical components must be of a high quality.
At Northumbrian Water's (NW) Howdon sewage treatment works in Northumbria, England, great responsibility is placed on the efficiency and performance of the re-circulating scrubber liquor pumps which handle 25% Sodium Hydroxide (caustic) and 17% Sodium Hypochlorite (Hypo).
Finding the right pump design
When the wet chemicalscrubber plant entered service in 1998, eight Wernert pumps were supplied by fluid handling specialists, AxFlow Ltd. The plant was designed to remove H2s and sulphur based compounds through the use of a re-circulated liquor made up of softened water. The Wernert NEPO pumps return liquor from ground level to a height of approximately 4 m to allow the liquor to dose the odorous air before it leaves the vessel stack. The chemicalsare dosed directly into the liquors and are controlled and monitored using Prominent control technology.
The Wernert NEPO pump, fitted with a bellows-type axial face seal has been used extensively within the wastewater and effluent treatment industry, where it has to convey various chemicals.
Pumps that endure
A decade on AxFlow returned to find the same pumps were still providing the level of service demanded by NW. Other than periodic inspection, AxFlow reported that the eight pumps used in the scrubber circulation application have performed well. The pumps supplied to NW, were fitted with abrasion and corrosion resistant UHMPE. If necessary, the 'rear pullout' pump design allows a quick exchange of the hydraulic side of the pump, without detaching the flanges or dismounting of the electric motor. Temperatures of up to 165°C can be handled.
The Wernert range can provide capacities up to 2300 m3/h and heads up to 110 m are included in the standard ranges. The pumps offer the opportunity to use a much more economic solution than high grade alloy pumps on larger duties as well as those more associated with plastic pumps. Wernert pumps can be used within the water industry, but also in chemicalsmanufacturing, nuclear processing, printing coil manufacturing, flue gas desulphurization plants in power stations, pharmaceutical processing and stainless steel production.