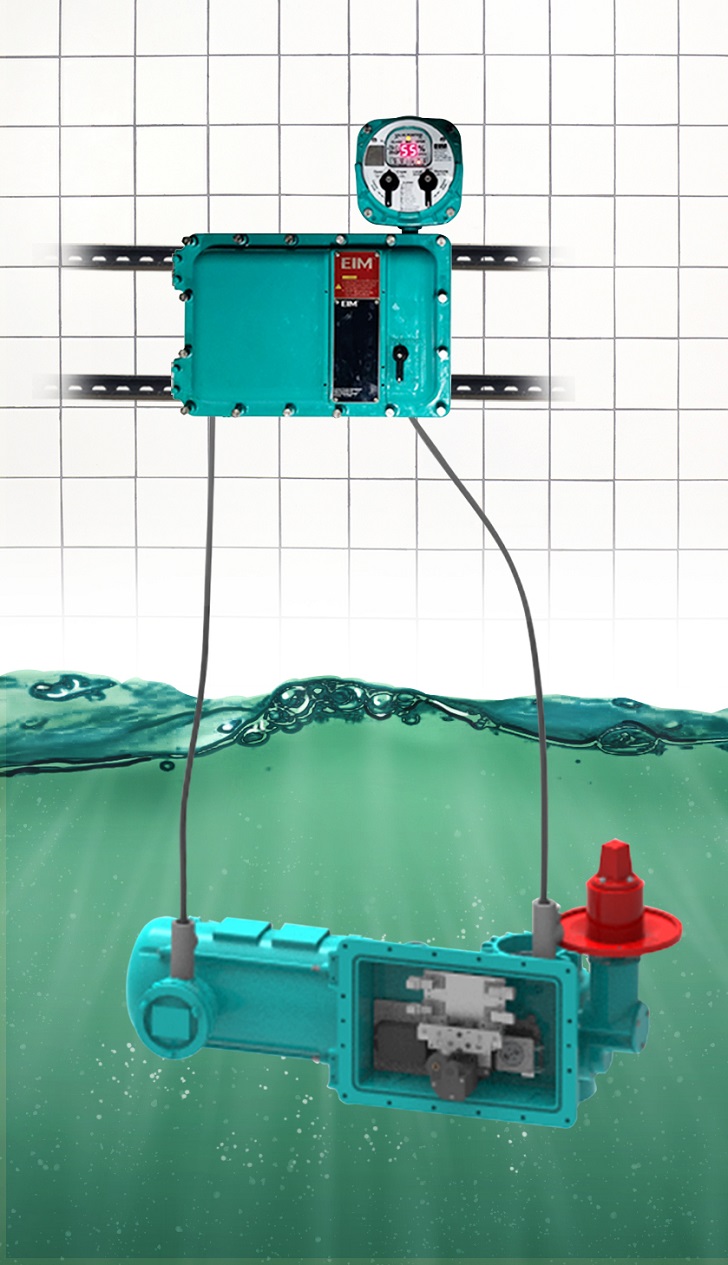 Many wastewater facilities are in low-lying areas, close to where they discharge their effluent and use gravity-fed collection systems, so are vulnerable to flooding. A US company has now designed a submersible electric actuator that can operate in 150 ft of dirty water.
While many wastewater facilities are designed to be low-lying, some systems also include pump stations where head differential is insufficient for flow, regardless of this, the facilities are at increased risk of flooding from severe storm surge and high tides.
In addition, most of the older sewer systems use combined sewer collection systems which means that storm drains are combined with sanitary sewer lines. In heavy rain and melting snow increased volume can cause a combined sewer overflow (CSO) event. 
A CSO is characterised by a potential high flow or surge of water following a heavy downpour that floods the facility. In both situations, the facility can be overwhelmed and processes disrupted, throwing off the balance of the treatment processes which can lead to raw sewage spills into the environment. These pose significant health and environmental risks to surrounding communities.
Emerson's Aquanaught Emerson, a US-based technology and engineering company, was asked by the New York City Department of Environmental Protection (NYC DEP) to develop an actuator that would operate 'under dirty water'.
The criteria were for an electrically-operated actuator rather than a hydraulically-operated one, which would have fewer maintenance issues, and the actuator had to be able to operate for extended periods in dirty water and be able to operate even if water was present in the control package.
As a result, Emerson developed the Aquanaught, a submersible electric actuator that can operate for seven days under 150 feet of dirty water. It features a robust mechanical design with a waterproof enclosure and hermetically sealed connections that ensure uninterrupted plant operation during flooding conditions. 
Submersibility ratings A standard electric motor actuator carries several ratings for submersibility, from NEMA 6 which covers occasional temporary submersion at 6 ft depth for 30 minutes and NEMA 6P for prolonged submersion at 6 ft for 24 hours, to the IP66 (powerful jetting) and IP68 (continuous immersion).
In contrast to the NEMA ratings, the individual manufacturer specifies the depth and duration for IP68, so ratings vary.  Typical Emerson EIM actuators carry a standard 20 ft depth for 72 hours for M2CP controls to 50 ft depth for 7 days for TEC controls.
The challenge faced by Emerson was to develop a hybrid that would withstand greater depths for almost continuous submersion. As everyone knows, water and electricity don't mix, so most failures in an electric actuator integral control package are due to water ingress. Submerging the entire assembly is, therefore, a risky practice and water ingress usually leads to a failure of ­components, such as the reversing contactor, transformer, relays and circuit boards. 
Designed for gate or valve isolation applications found in wastewater, water, collection systems, hydropower, flood control and desalination plants, the Aquanaught allows facilities to remain in control of their isolation needs from a safe remote location even if the actuator becomes submerged for extended periods of time. Waterproof sensors provide an additional level of protection by enabling early diagnostic and preventive maintenance during the flooding event. 
Two-piece assembly A primary feature of Emerson's EIM Aquanaught is a two-piece assembly. The first component is a separate control module (SCM) that includes the contactor, transformer, overload relays and a circuit breaker disconnect. Attached to the SCM is a Local Display Module (LDM) and both the SCM and the LDM are above the flood level assembly.
The LDM includes the operator interface with controls for open and close, a selector switch with the options for local, off, or remote, an LED display for valve position and alarms and configuration interface for diagnostic feedback.
The second component of the Aquanaught's two-piece assembly is the AEE, which is the submersible part of the assembly. The SCM is installed at a location above the flood level and is linked through an electric conduit to the Actuator Electric Enclosure (AEE) below flood level.
The AEE assembly includes the main actuator gearing and the gate/valve drive sleeve, the manual override, the motor and Motor Control Box (MCB), along with the limit switch and torque switch assemblies. Specially designed waterproof connections are used in the AEE and MCB to provide a safe electrical connection, even when exposed to water.
Immersed controls The design ratings for the Aquanaught are 150 ft depth for seven days or 70 ft depth for seven days with the control cover open with the controls exposed to complete immersed. Although Emerson actually conducted testing over 21 days, the company preferred to keep to the industry standard certification period of seven days.
This is because the Aquanaught has been designed for temporary underwater use in times of flooding or temporary high flows or surges of water, rather than a permanent underwater actuator. Testing was certified by American Bureau of Ships (ABS).
Initially conceived as a flood prevention device, primary applications were identified for isolation gates or valves at the influent end of the plant. Grit Chamber channel, CSO diversion valve, main sewage pump and trash gate isolation installations were made with a beta design version. These actuators have been submerged in some of the US East Coast's most nortorious hurricane events, including Hurricane Irene and Superstorm Sandy.
In a follow up with chief operators, the company discovered that nothing would prevent a Sandy-like storm surge or an unexpected high flow event. However, having the Aquanaught available allows plant operators to react to events instead of having to plan ahead for potential issues.
Planning ahead creates additional expense in terms of having more pumps and other equipment running, perhaps unnecessarily. Operators know that the Aquanaught will work as soon as it's needed, even if the plant is already beginning to flood and so this means that they only need to start it up when necessary.
Another benefit of the Aquanaught is that as a flood or high flow event is occurring, the plant can get its process under control faster and prevent spilling raw sewage into the environment. Emerson has been developing the Aquanaught for around 10 years. It was initially installed in several wastewater treatment sites, which effectively became beta test sites for the product. 
Two-piece assembly Aith this as an impetus, Emerson engineering put the Aquanaught through a rigorous design process and has released its new actuator as an addition to the Emerson Actuation Technologies electric actuator product group. According to the US Environmental Protection Agency (EPA), the country processes around 34 billion gallons of wastewater every day.
During events like Hurricanes Sandy, Irma and Harvey, billions of gallons of untreated sewage overflowed into surrounding communities, posing significant health and environmental risks to the affected areas. With flooding expected to worsen as climate change progresses, the need for more reliable actuation technologies will become critical for wastewater facilities.
Shimona Verma, senior product marketing manager for actuation technologies at Emerson Automation Solutions, said: "When flood waters begin to overwhelm wastewater treatment facilities, it becomes critical for these plants to keep pace with the changing conditions and continue to operate for the sake of their communities."