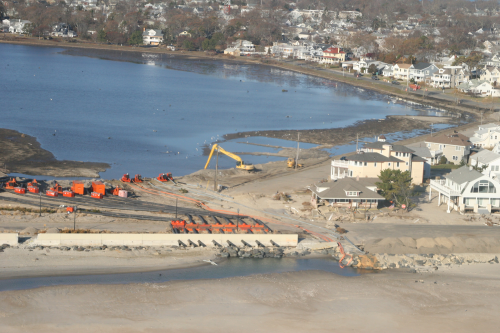 Xylem is a $3.8bn global technology company with customers in 150 countries and more than 12,500 employees. It sounds big but the area it is dedicated to – the efficient delivery of water and disposal of wastewater globally – is a huge issue which is growing ever more important.
Storm Water Management and Road Tunnel (SMART) system located at the confluence of the Klang and Gombak rivers, Kuala Lumpur.
As senior vice president and president of Xylem's Transport business, Tomas Brannemo is responsible for all aspects of global operations including strategy, sales and marketing, product development, manufacturing and supply chain serving the municipal water and wastewater markets.
"We are a technology company primarily involved in the transport, treatment and testing of water and wastewater. We offer solutions for smart and more efficient use of water globally," he explained.
Xylem is currently working on what Mr Brannemo describes as three different challenges – water productivity, water resilience and water quality.
Water productivity
The first issue, productivity, which is the efficient delivery and use of clean, processed water, involves overcoming historically highly inefficient uses of water. With mounting pressure on water supply from a growing global population, sustainability is becoming increasingly important.
"There is a lot of water loss and many solutions are labour intensive and require supervision, for example with blocking issues. At the same time there is a demand for energy efficient products. We help customers optimise water efficiency to save money," said Mr Brannemo.
Amongst the portfolio of brands in the Xylem stable is the Flygt range. The Flygt Experior wastewater solution combines state-of-the-art pumps with the Flygt SmartRun controllers that enable them to operate at peak efficiency, cutting energy consumption by up to 50%.
"The monitoring and control systems are becoming more important for customers. We do not provide off the shelf solutions – our approach is based on our application expertise and experience. For example, we make sure systems are cleaning themselves and the pumps are not idling too much and becoming blocked," said Mr Brannemo.
Water resilience
The intertwined challenges of population growth and climate change have led to Xylem developing the theory of urban resilience which incorporates how communities can quickly recover from natural disasters and prevent them re-occurring in the future. Xylem believes that private companies like itself have a key role to play in helping communities build resilience through innovation in business and technology models.
"Flooding is one of the most challenging natural disasters. According to the World Bank, in 2010 178 million people were affected by floods. What we do is provide emergency solutions and we have a very good global footprint to react quickly," added Mr Brannemo.
A good example involved the impact of Hurricane Sandy in New York and the north east coast of the United States in 2012. Days before it struck, the Xylem team gathered up to 500 Godwin dewatering pumps from across the country and stockpiled them in locations near the hurricane's projected path.
As the predicted mass flooding hit the area, the pumps went to work to help mitigate the effects of the water as quickly and effectively as possible. There is no doubt early warning systems, which can predict when natural water events will occur, played a major role in the case of Sandy and are becoming a key part of flood prevention strategies elsewhere.
"These disasters are increasingly on everyone's minds and a lot of governments are looking to learn about effective solutions," said Mr Brannemo.
Xylem's Godwin pumps dewatering Hurricane Sandy affected areas.
Water quality
The third challenge Mr Brannemo identifies is the issue of water quality which is the efficient and effective management and renewal of wastewater. Again, a growing population is putting increasing pressure on fresh water resources and increasing demand for re-use of wastewater. Safe treatment of this wastewater is imperative. "Our solutions improve how wastewater is tested and analyzed," said Mr Brannemo.
Another Xylem brand, Leopold, is a specialist in rapid gravity media filtration and clarification solutions for treating water and wastewater. Leopold supplies potable drinking water treatment plants with media filtration, backwash water recovery and desalination pretreatment solutions.
China is a major global hotspot in the water re-use market. The World Health Organisation estimates that nearly 100,000 people die annually from water pollution-related illnesses in China and 75 percent of disease is linked to poor water quality. The installation of Xylem's Leopold elimi-NITE system is part of a significant programme involving the construction of 1,200 new municipal wastewater treatment plants and approximately 160,000 kilometres of new piping.
"I was in China recently and I was amazed by the amount of construction that is going on even in second and third tier cities where up to 10 million people are living so there is a huge need for water as well as the transport and treatment of wastewater. As a result, Xylem has two manufacturing sites in China in what is becoming an increasingly important market providing a substantial range of opportunities, " said Mr Brannemo.
Considering its size and global footprint, it is not surprising to learn that Xylem often works at government level.
"We believe there is scope to be more active in emergencies and focus on preventative measures providing flood management solutions for emerging markets and for areas such as Europe where there is a need," added Mr Brannemo.
The 9.7 kilometre-long SMART tunnel in Kuala Lumpur can hold up to one million cubic metres of water.
Repeated and major flooding incidents in the Malaysian capital of Kuala Lumpur led to the government calling in experts from Xylem to design a bespoke solution to the problem of storm water.
The result was the Storm Water Management and Road Tunnel (SMART) system. The $600m project is located at the confluence of the Klang and Gombak rivers. Continuous urban development has placed pressure on the city's drainage system to cope with flash floods.
The award winning design incorporates a tunnel which diverts storm water before it enters the city center and acts as a double-decker motorway link during drier periods, relieving traffic congestion on the city's main highways.
The 9.7 kilometre-long tunnel can hold up to one million cubic metres of water which is released into the river downstream from the city to prevent flooding. Since its installation, the solution has controlled multiple flooding events, preventing serious damage to the city.
The system incorporates a holding basin with a floodwater storage capacity of 600,000 cubic metres, a reservoir with a capacity of 1.4 million cubic metres and the bypass tunnel.
More than 20 pump stations are controlled by a network of flood detection equipment and automated management machinery linked to a supervisory data acquisition and control (SCADA) "brain" that automatically engages flood management gates and pumps.
When flows hit 70 cubic metres per second, the bottom part of the tunnel is shut off to traffic and used for water bypass. At 150 cubic metres per second, all traffic is evacuated and the entire system is used to store water before releasing it slowly through the basins.
During one system test, the instruments delivered an accurate prediction of rising river levels 30 minutes in advance and managed the successful diversion of 500,000 cubic metres of water.
Heathrow airport is one of the busiest in the world with 70 million people using its terminals in 2012.
Xylem was commissioned to evaluate the wastewater pumping system in the cargo centre which hosts heavy volumes of traffic and handles a vast amount of freight on a daily basis.
The key targets were increasing reliability and cutting energy costs. Xylem installed a Flygt Experior system including two Flygt N-technology pumps and two Flygt SmartRun intelligent pump controllers in the sewage wet well of the cargo area.
The Adaptive N-hydraulics improves upon the proven clog-free impeller of the original Flygt N-pump by allowing the impeller to move axially upward long enough for bulky materials or other debris to pass through even more smoothly. This significantly reduces stress on the shaft, seals and bearings.
The two Flygt SmartRun intelligent pump controllers monitor the specific energy use of the pumps and continually adjust their speed to ensure the minimum amount of energy is being used for all pump cycles without the need for a site visit.
Since being installed in January 2013, the solution has cut energy consumption by 50% while maintenance call-out incidents have also been eliminated.
Lake Como is a major European beauty spot and tourist attraction and as such requires highly efficient wastewater management.The mountainous terrain means it is not an ideal landscape for housing wastewater treatment stations with the main sewage treatment plant located just a few hundred metres from the historic city centre.
A pump station management system oversees a total of 14 pumping stations which push 55,000 cubic metres of effluent per day to the treatment plant.
Comodepur, the organisation responsible for managing the wastewater system in the region, must ensure the treated, purified water which is discharged directly back into Lake Como, complies with stringent environmental standards.
The Tavernola sewage pumping station located on the western shore of the lake was proving problematic as it was energy-intensive and frequently became clogged thanks to the low speed of the pumps and the presence of fabric filaments from nearby textile firms.
Xylem introduced its Flygt Experior system featuring Flygt SmartRun intelligent controls combined with four Flygt NP 3202 HT 30 kW pumps.
The hydraulic design installed is self-cleaning and features a chopper ring to cut long fibres and solids, eliminating clogging and the need for regular maintenance.
The control system automatically adjusts the speed of rotation of the pump impellers to the needs of the system, minimising energy usage.
Flygt Experior delivered energy savings of 27% with no clogging or blockage issues. Within eight months it had paid for itself.