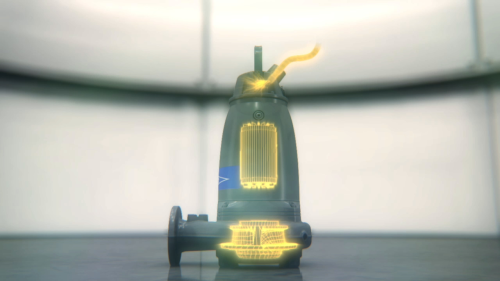 The RIONED Foundation is the national centre of expertise in sewer management and urban drainage in the Netherlands and the Innovation Award recognises cutting-edge advancements in the field of urban water resilience and management.
Flygt SmartRun was recognised for its pump cleaning function which handles pump, pipe and sump cleaning and facilitates soft starts and stops, delivering reliability and efficiency in an easy-to-install solution. The intelligent pump controller's advanced cleaning function, optimised for use with the Flygt N-impeller, detects abnormal blockages of the impeller and triggers an automatic cleaning sequence by momentarily reversing the impeller direction. Xylem says costs associated with unplanned maintenance are thereby reduced as clogging is instantly resolved when it occurs.
Working in tandem with Xylem's Flygt Experior wastewater pumping solution, Flygt SmartRun can significantly reduce a pump station's costs due to a combination of energy savings of up to 50%* and a reduction in unplanned maintenance call-outs typically required to address clogging. Xylem says it is so confident in the Flygt SmartRun solution that it has introduced a two-year clog-free guarantee when SmartRun is used with the renowned Flygt N-pump. As SmartRun is pre-programmed, Xylem says costly engineering work associated with pump station commissioning is eliminated. The intelligent pump controller solution intuitively finds the most energy-efficient pump speed for a specific application to ensure optimum efficiency. Start and stop ramps enable smoother, less abrasive pump operation, reducing wear and tear on the valves and increasing the lifetime of the pump. SmartRun can generate the same amount of torque as a direct online connected pump, which Xylem says ensures a reliable start even in the toughest wastewater conditions.
* According to Xylem tests