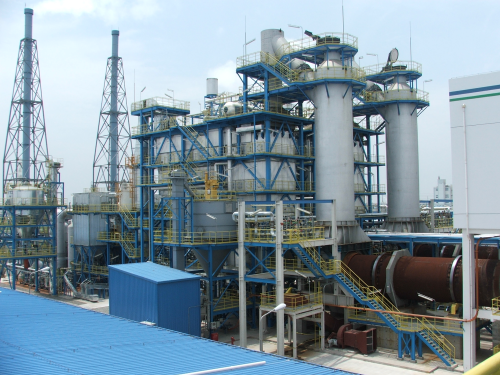 To coincide with the construction of a chemical plant, what is reportedly China's largest waste incinerator system was engineered and installed at the Shanghai Chemical Industrial Park (SCIP), by Metso Minerals. The incinerator system was designed to decontaminate and neutralize solids, liquids, gases, and sludges, with particular attention being paid to safety systems which carefully monitor a process that is handled by two identical process lines, each with a Metso-built direct-fired kiln.
A challenge with waste
Fired by propane gas and capable of processing 120 metric tonnes of material per day (MTPD), the system generates steam, which is then sold on to other users. 35 different control racks mix and inject the composite wastes into the primary and secondary firing chambers, and each kiln is rotated by a variable speed drive,allowing adjustment and control of the waste feed. Project manager, John Whelan of Metso Minerals, commented on how special provisions and materials had to be used for the handling and piping of these systems: "The variety and quantity of these waste materials made this system quite a challenge. Most are introduced at the feed end of the kiln, but many are also used to fuel the secondary combustion chamber."
Yanli Wang, Metso China's local project manager in Shanghai, highlighted the efficiency of the process: "The capacity of the system is driven less by weight or volume and more by temperature. When you mix the wastes efficiently, you actually do not have to use the propane in the burners – the wastes themselves combust and heat the system."
The design and operation of the system permits the process to vary the 'recipe' of wastes in order to achieve steady temperatures and efficient disposal. Wang said: "There is no doubt that the system can reach the contract-rated capacity of 120 MTPD on each line."
An international effort
Metso's experience in the incineration process was a key factor in the decision to award them the project, which was originated by the owners of the plant, SCIP Swire SITA Waste Services Co Ltd in June 2004. Metso was contracted through the China Tianchen Chemical Engineering Corp to fulfil the contract. Construction began in the summer of 2005 and the customer issued the Taking Over Certificate in October 2006, after a successful reliability test.
The twin rotary kiln system, located in the SCIP opened on schedule in July 2007. Recognising that it was a huge logistical operation, John Whelan commented: "Metso Danville and Metso China supplied all of the process-related equipment, as well as the engineering, erection advisory services and start-up of the system. Metso worked with vendors from a half-dozen other countries around the world. It was truly a collaborative international effort."