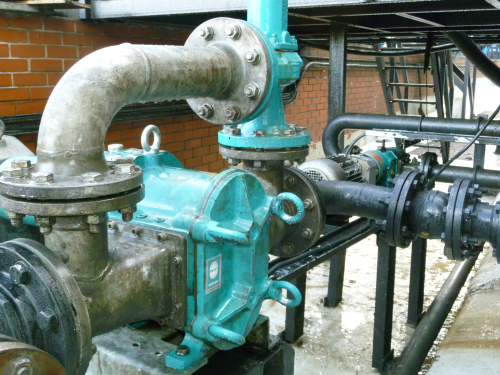 Two rotary lobe Borger pumps are employed at one of the fastest growing industrial waste disposal, cleaning and hazardous waste management companies in the UK. Black Country-based MTB Midlands Ltd introduced the Borger equipment in 2009 to replace two troublesome progressive cavity pumps that couldn't cope with the arduous applications. Richard Owen from MTB Midlands Ltd, said: "We certainly put the Borger pumps to the test, but they never let us down. They are used constantly on a day to day basis. Despite the very tough duties with oil, coolants and process waters, the pumps keep on working, which enables us to concentrate on what we're doing and maintain a very efficient and effective operation, with very little down time for pump maintenance." Designed with Maintenance-In-Place (MIP), the 4kW and 7.5kW Borger pumps (15 & 50 m3/h @ 3-bar) are both fitted with pressure relief valves.
Making life easier  
Reductions in downtime have also been made possible by Borger's pumps at Chemwaste, who offer total waste management solutions. Despite taking on one of the most notoriously difficult applications, three MIP Borger pumps handle highly abrasive waste latex with a high solids content that is just part of the company's six-stream manifold system.
Borger's pumps at Chemwaste.
Chemwaste's site manager Dave Walton, said: "We've worked closely with Borger to develop pumps that would be best able to withstand our very demanding process. Borger's pressurised pre-chamber system pump has dramatically reduced downtime because our previous pumps became blocked up almost constantly and had to be taken out of service for complete stripping down". David Brown, Borger UK's managing director, added: "We knew this application was going to be an extremely tough challenge but by Chemwaste giving us the opportunity to work with them and understand their process, we're very pleased to have provided pumps that make life easier".
Quick repairs  
Borger's pumps have also been introduced at a major UK West Midland-based ink provider, where laborious pump breakdowns were proving all too common. Failure of just one of the 150 pumps at the ink plant could often result in the loss of six-seven tonnes of product per day, with a repair taking up to two-three hours, as engineers working in confined areas fought to keep production on track. The older pump design would require all sorts of ratchets and adjustable spanners just to get the pump going again or sometimes remove it completely to the workshop. Hoisting out an ink-clogged pump and dragging it off to the workshop was a major event. This very time-consuming process was being further hampered by painfully long waits for spares of sometimes up to six weeks. Trialing just one Borger pump de-bottlenecked the troublesome black ink production line. Its consistent running took the company beyond its capacity-analysis target to give an extra 400 kilos of ink production per hour – the best ever seen at the facility.
Borger pump at ink manufacturer. Encouraged by this success, the ink producer began introducing one Borger pump for each process, which continued to enhance production and buoyed the maintenance team. The two-three hours spent on the laborious repair of an old pump had given way to just 10–20 minutes upkeep with a screwdriver on Borger's MIP pumps. On the older pumps, blockages would stop the pumps' lobes from turning and the pressure relief valves would regularly clog up – whereas with Borger's Variocap, there's an anti-clogging element and no external pipework. After the integrated pressure relief system has operated, it pushes the product back into the pump, which also improves the safety of the plant. Furthermore, energy savings have been created because typically, pumps in the past had been over-specified. Standardisation has begun on the 3 kW Borger pumps, which are gradually replacing the unreliable 7.5 kW units. David Brown, Borger's managing director said: "This is just one of many examples where we've joined forces to find the best solution. It's an education process for both parties, understanding the kit and what's trying to be achieved". He added: "Our pumps are designed and set up especially for each application, but because our customer allowed us to get involved at the early stages of the design process we've been able to point the plant in the right direction".