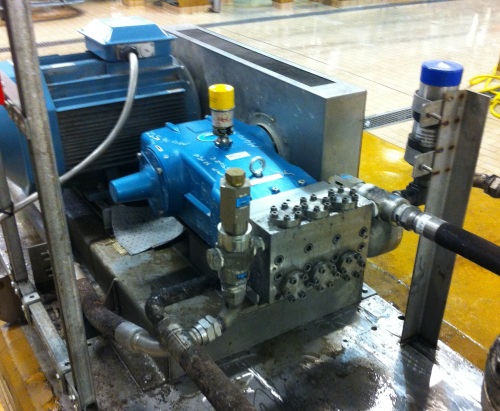 The digital edition of the magazine is distributed free of charge to readers who meet our qualifying criteria. You can apply to receive your free copy by completing this short registration form.
A Cat Pumps Model 6831 high pressure pump is cutting energy and maintenance costs at a leading food processing plant in the UK. Supplied by AESPump Limited in June 2012, the triplex positive displacement plunger pump has replaced two aging and troublesome Pitot Tube pumps used for washing filter screens and supplying high pressure wash-down hoses.
In its first year of operation, the Cat Pumps unit has reduced the energy costs from £45,200 per annum to just £13,300, and maintenance costs from £30,000 per annum to £2,800. Of equal note is that the payback period for this change-out was just 9.9 months.
To see how this saving has been achieved, it necessary to review the previous pump installation before AES and Cat Pumps became involved.
The original Pitot Tube pumps (one duty and one standby) had been in operation for some time supplying high pressure water from a holding tank to the filter screen pressure jets and the wash-down lances around the plant. The duty specified was 105 L/min. at 140 bar, or 6.3 m³/hr at 1,430 m, and the model installed was running at 5,900 rpm via a geared-up drive. This was fitted with a 132 kW, 3,000 rpm 415/3/50 motor complete with soft start, and was estimated as absorbing 112kW at the duty point.
Costly operation
Having been run for a period of time, the pumps had become increasingly unreliable and were suffering two to three failures a year. These failures were costing the food processing company an estimated £30,000 annually in parts and labour.
With annual running costs in the region of £75,200, the food company implemented a project to look into replacing these two pumps with a more reliable product. AESPump, who had been providing the processing plant with pump maintenance and plant improvement services for some seven years, was brought in to provide advice. They recommended that the Cat Pumps triplex pump would be the best solution. Being a true positive-displacement reciprocating pump, this would offer a consistent flow rate unaffected by discharge pressure
The Model 6831 pump was selected for an enhanced duty pressure of 160 bar at the required flow rate of 105 L/min. and a water temperature up to 45°C, achieved at a shaft speed of 440 rpm. A further influential factor in the selection of this particular pump was the significant reduction in required footprint area. The complete skid unit was ordered, delivered to site within eight weeks from PO placement, and after initial commissioning adjustments the unit ran without incident.
After 12 months of fail-free operation, the customer wished to assess the cost-effectiveness of the pump change and elected to temporarily remove the Cat pump for a routine inspection and service, at a cost of £2,800. The energy costs were then calculated based on the running time being the same as the previous Pitot Tube pumps i.e. 48 weeks p.a. and 24/7 utilisation.
At an electrical supply price of £0.05 per kWhr x 33kW absorbed, the energy usage for the new pump amounts to £13,300 per annum. Taking this together with the lower maintenance costs, the overall operating cost for the Cat pump in the first year was only £16,100, a massive reduction of £59,100. The initial investment cost of the replacement pump, inclusive of installation charges, came to £45,700. By taking this figure together with the annual running cost, it can be seen that the customer achieved a saving of £13,400 in the first year. Even more impressive is the projected saving for the second year which has been forecast at £59,000.
Customer satisfaction
Cat Pumps and AESPump say that their customer has been delighted with the first year's operation. In fact, based on the proven reliability of the Cat pump, the user has concluded it is now no longer necessary even to install a standby pump.
The digital edition of the magazine is distributed free of charge to readers who meet our qualifying criteria. You can apply to receive your free copy by completing this short registration form.