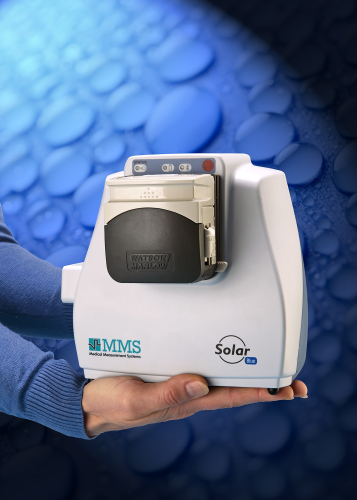 Medical Measurement Systems BV (MMS) develops, produces and markets systems that enable medical professionals to perform functional diagnosis in the fields of urodynamics, gastroenterology and neurology. Recently, it chose Watson Marlow Pumps' 314DK peristaltic pump head for its urodynamic systems.
MMS products have been on the market since 1988 and since then the company has grown fast – today employing more than 60 employees at its Enschede headquarters in the Netherlands and more at satellite operations in Germany and the US.
Medical compliance
At Enschede, all products are designed and tested to comply with European and American medical safety regulations, as well as international quality standards. Global distribution takes place through a worldwide network of qualified distributors, who sell MMS systems to university, public and private hospitals in more than 60 countries.
The company's philosophy is to ensure that its engineers and sales people have daily contact with practising physicians and nurses all over the world. This enables MMS to develop, modify and customise diagnostic systems that meet exactly the needs of today's healthcare professionals. This close liaison has led to the development of many new urodynamic systems that are used to diagnose bladder dysfunctions, micturation disorders, urinary and fecal incontinence as well as prostate problems.
 "One of the core investigations required to diagnose disorders involves filling the patient's bladder with a saline solution," explains Willy Bergsma, manager of hardware development at MMS. "Many of the disorders are either neurological or muscular and when the bladder is filled using our equipment, the patient has to tell the investigating medical team the sensations being felt."
MMS also uses its own peristaltic pump head based on an eight-roller configuration. The important factor to realise with urodynamic testing is that the actual motion of saline solution passing through pump rollers can transmit to the patient as 'pulses' that may interfere with the genuine urges felt when a bladder becomes full. This pulsing effect is reduced by having a greater number of rollers.
In recent years, as more and more medical institutions have been forced to consider cost issues, MMS has been focussing on the introduction of low and mid-range urodynamic systems, such as easy-to-use wireless uroflowmeters, to sit alongside its established range of advanced, multi-channel video systems.
Watson-Marlow 314DK
"We checked the market for an off the shelf peristaltic pump head, and we came across the Watson-Marlow 314DK, which is a four-roller version of its standard 313 pumphead," says Mr Bergsma. "Besides appreciating that four rollers would be preferable for our application, the specification-cost ratio of the 314DK was the best we could find and this model with a preset tube clamp setting has since been fitted to thousands of MMS systems."
Watson-Marlow 313 series pumpheads feature: a flip-top easy loading design; four rollers for minimum pulsation; flow rates of 2 l/min (continuous) or 3 l/min (intermittent); the ability to accept five tube sizes without adjustment, and 24-hour duty rating.
Peristaltic technology means that nothing but the pump's tube touches the fluid, eliminating the risk of the pump contaminating the fluid, or the fluid contaminating the pump. Fluid is drawn into the pump, trapped between rollers and finally expelled. The complete closure of the tube gives the pump its positive displacement action, preventing backflow and eliminating the need for checkvalves when the pump is not running.
The latest system to feature Watson-Marlow 314DK pumps is Solar Blue, described by MMS as "without doubt one of the simplest full-function urodynamic devices currently available". This urodynamic investigation system is extremely small and 100% wireless.
"I have only positive things to say about Watson-Marlow pumps," concludes Mr Bergsma. "We buy them, we mount them and they run! They're an ideal off-the-shelf item."