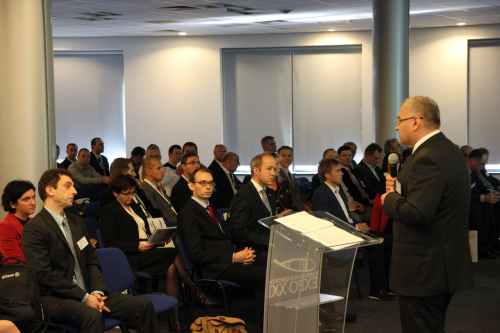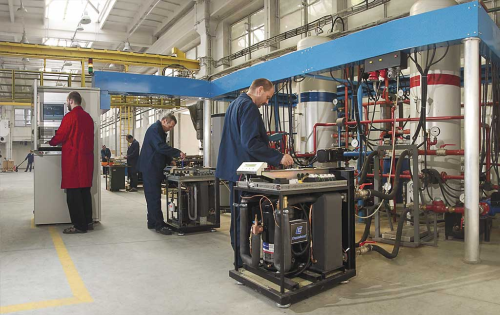 According to the Polish Organisation of Heat Pump Technology Development (PORT PC), by 2016, heat pump sales in Poland are forecasted to expand to about 16,000 units per year. Presently, the market is dominated by two types of heat pumps – brine-to-water and air-to-water, which together accounted for as much as 82% of the Polish sales in 2012.
A year-to-year increase in sales was reported in four-out-of-five market segments, as shown by data published by PORT PC. More specifically, sales of brine-to-water heat pumps were up from 4,300 to 4,800 units, an increase of 11.6% over a year earlier; sales of air-to-water units for domestic hot water use increased from 4,500 to 5,600 pumps, up 24.4%; and sales of other air-to-water units expanded from 1,300 to 1,750, up 34.6%. Meanwhile, the direct evaporation soil-to-water segment posted a robust increase of 59.1% from 220 to 350 units. The only segment of the Polish heat pump market which did not report an expansion in 2012 was water-to-water, which posted a decrease of some 40% from 250 to as little as 150 units.
Asked about the sustainability of the growth reported by the country's heat pump market last year, industry observers point that its expansion in 2012 is a result of a continuous trend.
"Over the past several years, the Polish heat pump market has been systematically expanding," Pawel Lachman, president of the PORT PC, told World Pumps. According to the industry association, this has been accompanied by a significant shift in perspective of heat pumps by Polish customers.
"In the opinion of the PORT PC, the reason behind this growth is that the society has begun to see the economic and ecological benefits related to the use of heat pumps. These devices allow a decrease in the annual heating costs up to several times in comparison with other conventional heating systems," Lachman said. "The convenience of using these kinds of pumps is another major advantage to their benefit."
While the rapid growth pace of the Polish heat pump segment is a reason for optimism for manufacturers and distributors active in the local market, some industry representatives say that the Polish government could take a more active role in stimulating its development. So far, the European Union's regulation, which recognises the role played by heat pumps in renewable energy, has not been implemented in the Polish legislation, local observers say.
New renewable energy bill
The Polish Ministry of Economy is currently working on a novelisation of the country's renewable energy sources bill, but works have been progressing slowly. The industry association says its members believe that the revised bill could significantly contribute to boosting the expansion of the heat pump market in Poland.
"In the PORT PC's opinion, the most important provision of the renewable energy sources bill would be the one recognising heat pumps as a source of renewable energy," Lachman said. He added that EU legislation is a factor which plays a key role in stimulating the development of this sector.
"Besides the [renewable energy sources] bill, the documents of the European Commission, which supports heat pumps through its activities, are also very important. A key document here is the Commission's Decision from March 1, 2013 which establishes guidelines related to calculating the renewable energy output of heat pumps and estimating the value of the seasonal performance factor (SPF) coefficient," Lachman said. "This decision is a clear indication of the benefits generated by the use of heat pumps."
Co-financing a major incentive
At local level, some of the country's municipalities have set up grants or loans programmes with the aim of supporting the purchase and installation of heat pumps. One such programme was launched in mid-March 2013 by the local authorities of Warsaw, Poland's capital city. Under the plan, the municipal council will cover up to 50% of the cost of purchasing and installing heat pumps by individuals.
Also in Kraków, the largest city in Poland's region of Malopolskie, municipal authorities co-fund investments to replace a fuel heating system with a renewable energy-based one, including heat pumps. The distributed grants will cover up to 100% of related expenses, or up to PLN 900 (£180) per each kW of installed capacity. The funding is available to individuals, residential cooperatives, legal entities and companies.
Some funds were also made available in early 2013 under various regional programmes, including the regions of Pomorskie, Kujawsko-Pomorskie and Malopolskie, and also through co-financing provided for investments of various sizes by the state-run National Fund for Environmental Protection and Water Management (NFEPWM) and its regional branches which provide support to municipalities and non-profit organisations.
In the country's central Mazowieckie region, in March 2013, the regional branch of the NFEPWM launched a programme to co-finance the purchase of heat pumps by individuals. According to the programme's terms and conditions, grants covering up to 30% of the qualified costs, or up to PLN 17,000 (£3,400), will be awarded to selected applicants. In addition to this, the maximum co-financing cannot exceed PLN 2,000 (£400) per kW of capacity, the fund said.
However, most of the available programmes have a serious flaw, according to some industry representatives. "They are intended for companies and various kinds of institutions, not individuals," explains Wojciech Czapiga, technical-commercial advisor at Vatra, a Polish heat pump manufacturing and distribution company. "In some of Poland's neighbouring countries, such as the Czech Republic, the state is playing even a more active role in co-financing heat pumps bought by individuals," Czapiga told World Pumps.
As data shows, co-financing can be a very important incentive for institutional clients which aim to purchase heat pumps. All institutions ordering pumps made by Vatra have to date acquired them with the help of various grants which covered at least 40% of the purchase, according to figures from the manufacturer.
Companies eye sales growth
Headquartered in Kraków, Poland, Vatra has been producing a wide range of heat pumps since 1998. The company's product portfolio includes various brine-to-water heat pumps with a capacity of between 5.2 kW and 164 kW, and water-to-water units with a capacity of between 7.1 kW and 242 kW, according to data from Vatra. In addition, the Kraków-based manufacturer has also been working on prototypes of air-to-water heat pumps, but has not added this kind of pumps to its product range. The company says it uses components made by Copeland, Danfoss and Alfa Laval in the production process.
In the first five months of 2013, Czapiga estimates that the company sold heat pumps with a total capacity of some 1 MW, which he says represents a significant increase over the same period last year.
"But the best sales period is yet to come this year. The peak sales period is normally in October and November," Czapiga said.
"But the best sales period is yet to come this year. The peak sales period is normally in October and November."
Czapiga said
According to forecasts by the PORT PC, by 2020, about 50% of new buildings and as much as 10% of overhauled buildings in Poland could be fitted with heat pumps. Meanwhile, representatives of local production and distribution companies confirm that the heat pump market's outlook is rather optimistic.
Waldemar Matuszynski, product manager at De Dietrich Technika Grzewcza, says that last year's market expansion translated into improved sales of the company in Poland. De Dietrich Technika Grzewcza, based in the country's south-western city of Wroclaw, is selling a decisive part of its heat pumps in Poland's western regions, according to Matuszynski. These regions have traditionally been in better economic shape than those located in the country's east.
"Currently, our best-selling products for households are air-to-water heat pumps," Matuszynski told World Pumps.
De Dietrich's product offer in Poland includes the HP Inverter reversible air-to-water heat pumps range, with the units' capacity ranging from 6 to 27 kW, and a coefficient of performance (COP) of up to 4.2; and the Alezio air-to-water heat pump inverter with a capacity range of 6 to 16 kW, as shown by data from the company. According to data released by the manufacturer, for 1 kWh of electricity consumed, the Alezio heat pump can produce as much as 4.2 kWh of heat.
In the Polish market, these heat pumps have a price tag of between around PLN 19,000 (£3,800) and PLN 42,000 (£8,400), VAT not included.
Promoting heat pumps 
Established in January 2011 and based in Kraków, Poland, PORT PC represents the interests of around 20 heat pump manufacturers and distributors which are active in the Polish market. Its president says that the Poland-based companies which support the activities of the association are also the most significant players in the country's heat pump market. In 2012, the PORT PC became a member of the European Heat Pump Association (EHPA).
Determined to increase knowledge and raise awareness of the benefits related to the use of heat pumps at both local and national level, PORT PC is involved in a number of information and publicity activities in Poland. These include the preparation of a report for government and local government institutions, organisation of training and certification for heat pump installers developed under the EUCERT programme, co-operation with various Polish technical universities, as well as the preparation of an information campaign on heat pumps, according to the industry association.
A council tasked with performing policymaking and research works, created by the PORT PC and consisting of some of the leading Polish scientists specialised in related fields, is another key element of the association's efforts to promote the use of heat pumps in Poland. The council gathers scientists from local and foreign technical universities and research institutes, such as the Warsaw University of Technology, Kraków's AGH University of Science and Technology and Germany's Fraunhofer-Gesellschaft, according to the PORT PC.
Polish economic outlook solid
The current economic climate in Poland is another factor impacting the heat pump market. Despite the ongoing financial turmoil in the European Union, the Polish economy has been able to sail through choppy waters on its own. In 2011, the country posted a gross domestic product (GDP) growth of 4.5%, compared with the Eurozone's 1.4%, as shown by data from Eurostat. In 2012, Poland's GDP slowed down to 1.9%, while the Eurozone's GDP shrank by 0.6%.
This year, many economists say that Poland's GDP growth will most likely further decrease, but the country's economy is still projected to expand. According to a forecast by the Organisation for Economic Co-operation and Development (OECD), the country's GDP will increase by 0.9% this year, and a solid 2.2% in 2014. This contrasts with the Eurozone's projected GDP decrease of 0.6% this year, according to figures published by the
Paris-based organisation in May 2013.
Positive market perspectives
Asked about the heat pump market's perspectives for 2014, industry representatives seem to be confident that the best years are yet to come.
"There is no alternative, as the cost of generating heat by heat pumps is significantly lower than by gas- or oil-based heating systems. And the market is still far from being saturated," Czapiga said.
Also the president of the PORT PC says that the heat pump market has major potential in Poland, and that customers will be increasingly turning to heat pumps convinced by this solution's high cost-effectiveness.
"An air-to-water heat pump with a capacity of 10 kW allows in our conditions to generate statistically as much energy from renewable energy sources as four standard solar thermal installations for domestic hot water use," Lachman said.