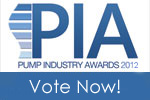 Technical Innovation of the Year – Products Sponsored by World Pumps
Synchronous Motor and Drive Package, ABB Limited The new motors are based on an innovative rotor design, offering high efficiency and high power output. They use synchronous reluctance technology and are offered as a complete package together with a frequency converter and dedicated software. The rotor design makes it possible to make motors that are much more efficient and smaller than conventional induction motors. Designed without windings the new rotor has basically no losses at all, which keeps it uniquely cool. GXS – Dry Vacuum Screw Pump, Edwards Edwards is a leader in vacuum technology and a pioneer of dry vacuum pumping.  Its innovative compact GXS dry vacuum pump incorporates cutting-edge screw technology with a world leading high efficiency drive to achieve excellent vacuum performance and low cost of ownership. With advanced temperature control, exceptional reliability, low maintenance and long service intervals, the GXS is the most robust and economical vacuum pump for industrial applications and has set a new standard in dry pumping. SOLOLIFT2, Grundfos Pumps Ltd SOLOLIFT2 is a revolutionary range of sewage and wastewater domestic lifting stations from Grundfos.   The family incorporates 15 new features some of which are unique. The range offers superior reliability, increased performance and improved serviceability.  And the result? Here is a customer quote "Grundfos' SOLOLIFT2 macerator range is a giant leap in wastewater disposal. It's the most powerful, reliable and service-friendly lifting station on the market". Series 3 Rainwater Harvesting Pump, HydroForce Pumps Ltd The HydroForce is the first pump made specifically for rainwater harvesting, such an essential process in making homes more sustainable. And it's British-built. Reliability is essential; the HydroForce improves on existing submersible pumps with a bulkhead separating the pump from the electric motor and a pressure release gap to ensure water does not get into the motor. The pump is controlled by a dedicated intelligent PCB, double dry-run protection, pressure-sensitive water delivery and non-return-valve. XHD Slurry Pump, ITT Goulds Pumps Goulds XHD Extra Heavy Duty World-Class Lined Slurry Pump is a next-generation product that can handle the heaviest slurry under the toughest conditions. It is designed to provide maximum efficiency and wear life, be maintained even while running, and to require less downtime for service procedures with feature such as the adjustable suction seal ring, split stuffing box and quick change wet end. The pump's short bearing housing is also easily adaptable to nearly any existing foundation with minimal piping changes. The XHD pump will enable mines and related operations to move slurry with improved reliability and at lower operating cost. Wireless Machinery Monitoring System to ATEX Zone 1, John Crane The DART system is an intrinsically safe (ATEX Zone 1) wireless machinery monitoring system that opens up a new market in low cost monitoring. Using a simple alarm dashboard view, complex vibration and temperature data from anywhere in the World can be automatically monitored from a standard PC via the Internet. We believe this is the first battery operated wireless machine monitoring system running offshore UK. Designed and manufactured in UK by John Crane. Verderflex Dura Dosing System for Water and Waste Water Treatment, Verder UK Ltd The Verder UK Ltd project team specialise in dosing systems. The system can dose both crystal and liquid formats of a chemical – which can reduce your site deliveries, costs and risk. For your peace-of-mind, Verder can provide a complete end to end service including consultation, design, installation, commissioning and maintenance. The system is ideal for the treatment of process effluent and sewage treatment. Flygt Experior, Xylem Water Solutions UK Ltd Flygt Experior™. Reliability, efficiency, and simplicity. Flygt Experior gives you the freedom to combine the most technologically advanced features and components, most relevant to your wastewater environment. So you actually have the option to select the most perfect pump possible for your needs. Flygt Experior incorporates state-of-the-art hydraulics, premium motors, and intelligent controls. In each case, only the products that meet the stringent Flygt demands of reliability and efficiency are selected. Flygt Experior is the stamp of approval that you are getting the best of the best. The result? State-of-the-art pumping that delivers the ultimate in reliability, efficiency, and simplicity.
Technical Innovation of the Year – Projects Sponsored by Sterling Fluid Systems
Anglian Water, ABB Limited Anglian Water Services (AWS) decided to set-up a project to improve the energy efficiency of its sites and reducing its CO2 footprint. Using its network of ABB Drives Alliance members ABB put forward a plan of action to investigate AWS' use of energy at a number of sites and determine how much it could make in savings. They implemented a plan based on its Drives Advantage programme, a comprehensive care and support package for users of ABB drives. Installation of AC Drives on Anaerobic Digester, ABB Limited An anaerobic digester uses micro-organisms to break down biodegradable material such as sewage waste. Northumbrian Water was experiencing a problem with the pumps on the anaerobic digester at Bran Sands sewage treatment works. Northumbrian Water and Quantum Controls investigated whether it could achieve a form of pump control that would prevent the foaming. Two ABB low voltage AC drives were fitted to one of the digester tanks which give the ability to reduce the motor speeds, avoiding the foaming. Main Pumping Station for Water Supply System in Turkmenistan, HMS Group HMS Group was selected to build main pumping station for Turkmenistan. It has strategic importance in terms of infrastructure development. The impressive 126,000m3/h capacity allows supply of highly turbid water from Amu Darya River into the irrigation system. EPC project was carried out in the complicated geotechnical conditions with constant forced dewatering. Launched in February 2011 the station has increased irrigated area by 31,000 hectares and made possible to build potash and cement plants etc.
Environmental Contribution of the Year Sponsored by WEG Electric Motors
Installation of AC Drives on Anaerobic Digester, ABB Limited An anaerobic digester uses micro-organisms to break down biodegradable material such as sewage waste. Northumbrian Water was experiencing a problem with the pumps on the anaerobic digester at Bran Sands sewage treatment works. Northumbrian Water and Quantum Controls investigated whether it could achieve a form of pump control that would prevent the foaming. Two ABB low voltage AC drives were fitted to one of the digester tanks which give the ability to reduce the motor speeds, avoiding the foaming. Solar InteliJECT, CheckPoint Pumps & Systems The Solar InteliJECT is a completely self-sustaining solar-powered chemical injection system, requiring no outside power source besides the sun.  Each system is engineered for its specific application and location.  An extremely efficient pump, simple touchscreen operation, closed loop automation, real-time flow feedback and power management features that override human error keep the unit running non-stop and guarantee accurate dosing unattended.  This minimizes expenses associated with inaccurate injection, depleted batteries, maintenance, personnel dispatch or well shut-in. Grundfos RC Pump, Grundfos Pumps Ltd The Grundfos RC pump is the world's first pump that has been designed and specially optimised for use with CO2 refrigerant.  It uses about a third of the energy that standard centrifugal pumps normally use in the same circumstances. This is achieved through utilising variable speed capacity control and the use of intelligent pump protection that reduced the energy consumption of the pump considerably compared to traditional installations. Pumps as Turbines, KSB Limited Rising energy prices and finite energy resources call for alternatives and solutions that help save money, for example, centrifugal pumps running in reverse.  Pumps used as turbines, or PaT for short, are KSB's answer to conventional water turbines.  They offer huge advantages such as low investment outlay as well as low service and maintenance costs combined with tried and tested technology. Thanks to their low investment costs our PaT solutions pay for themselves after a very short time. SPP Energy Division, SPP Pumps Limited SPP Energy is passionate regarding support for Customers, owning operating pumping systems, to reduce cost of ownership through System Efficiency Improvements. Working to create long term mutually beneficial relationships SPP offer Pump system Assessments and Pump Mapping Programs to The US Department of Energy's ASME EA2 Standard. System energy reductions of 30% can typically be achieved with resulting Co2e reduction.  Help us to reduce National Energy Consumption and Co2e to save the planet. Complete System Saving, Sterling Fluid Systems 'Whole System Saving' is a service that audits existing pumping systems, with the intention to reduce their operating costs and environmental footprint. This pumping system assessment is focussed on reducing energy usage, and often reaches 90% of energy saving.  Therefore, the amount of CO2 emitted from the system is also cut by this amount. While addressing the energy efficiency of a pumping system, Mean Time Between Failures (MTBF) is dramatically improved. Wilo Stratos PICO, Wilo UK Limited The Wilo Stratos-PICO is the most energy efficient small circulator you can buy offering up to 90% lower energy use than a typical uncontrolled pump of which there are millions still operating across the UK. It already meets the stringent new standards set by the EU ErP Directive for 2015 and in an average home the annual energy costs for running the pump will be as little as £7.50 a year.
Manufacturer of the Year Sponsored by John Crane
CheckPoint Pumps & Systems CheckPoint Pumps and Systems manufacture a full line of pneumatic, electric, and solar chemical injection pumps for the oil and gas industry.  CheckPoint also specializes in engineering and fabricating custom package solutions to meet each customer's unique application, up to remote accessible closed-loop automated systems.  All CheckPoint products are centered on quality, accuracy, and reliability and are backed by unparalleled service and technical support to maximize productivity, efficiency, and long-term ROI for clients. KSB Limited KSB Limited is represented in the major building services, industrial, water, wastewater and energy market sectors. With an extensive product portfolio and sales activity across all these markets, clients require multi-faceted solutions, a challenge that we meet head on. The drive for KSB is to understand the client and deliver the right solution every time. KSB has evolved to meet these challenges. The culture within our organisation lends itself to working flexibly and thereby leveraging the skills across the whole business to meet customer and market demands. Sterling Fluid Systems Sterling SIHI has been a world leader in liquid and gas handling systems for over 91 years. The company is one of only a few pump companies to manufacture both liquid and vacuum pumps, bespoke engineered systems and condition monitoring devices. Innovative technologies include the award-winning SIHIdry vacuum pump, recognised for its low running costs. Sterling SIHI has 10 manufacturing sites along with sales & service centres based across 60 countries around the world. Wilo UK Limited Wilo UK offers a wide range of pumps for all applications, from small domestic circulators to large commercial pumps and pumping systems. These include pumps for heating, air conditioning and refrigeration, water supply and sewage pumps and lifting plants – their range is massive. Wilo UK also provides a comprehensive servicing capability. Its success has been built squarely on providing exceptional quality, highly reliable products, leading edge technology and customer care that's second to none. Xylem Lowara UK Ltd Lowara shares certain fundamental objectives with its customers: creating new products, perfecting quality and improving processes. Therefore Lowara's values are centered on its customers. The Lowara people work in teams, since having common objectives is the best way to attain excellence in production and distribution. In its relationship with co-workers, customers and the outside world in general, Lowara consistently refers to its values: respect for people and the environment, quality of life, innovation, excellence, integrity and the pride of belonging to the team.
Distributor of the Year Sponsored by BPMA
Pumps UK LTD The Pumps UK Group has expanded significantly this year! The founding of Pumps UK Service in February meant a separation of service & distribution. This saw compelling levels of development in both areas while allowing for a continued crossover of excellent customer service. Significant strides into energy efficient systems and installation's and the all new improved on-line store made 2011 an important and successful year for the Pumps UK Group. Tomlinson Hall & Co Ltd Tomlinson Hall proud winner of this prestigious award in 2009 & 2011 has over 90 years' experience of pump distribution, specification and latterly manufacture.  Representing many international pump manufacturers and now distributing on a worldwide scale, they offer a complete service to clients where speed and quality of technical response is crucial and excellent after-sales service is essential. Technical experience and knowledge permits the production of customised solutions to individual challenges. Verder UK Ltd Verder UK Ltd is a leading supplier of pumps and bespoke pumping systems. Choosing Verder opens up your company to high quality pumps, engineering expertise for your process and state-of-the-art servicing facilities to ensure your pumping needs are working for you. Contact Verder UK to secure your pumps.
Supplier of the Year Sponsored by Process Industry Informer
ABB Limited ABB supplies motors and variable-speed drives to both leading pump manufacturers as well as end users. About one-quarter of ABB's drives are used in pumps; the energy savings from these drives amount to an estimated 11 billion kWh per year. ABB is the world's largest supplier of drives, with pumps being the single largest applications area. ABB has about 50 percent market share for drives in the UK water industry, the largest application area for pumps. Darwins Holdings Limited Darwins is the only steel foundry in Europe truly dedicated to supplying high integrity castings to the Pump Industry. Over 95% of sales are to pump OEM's.Direct exports to 15 countries account for 40% of turnover and are one reason behind the tremendous Company growth seen in recent years. Darwins material range covers all International standards from carbon steel up to high Ni alloys with stainless and increasingly popular  super-duplex  grades a speciality. WEG Electric Motors As one of the world leading electric motor and drive manufacturers, WEG supply turnkey automation systems to control some of the most prestigious clean water, and waste water projects in the world.  The W22 range of electric motors can meet all global efficiency requirements including the European IE2 and IE3 standards and is now available for the UK water industry as WIMES specific range "W22 WIMES" with a three year warrantee as standard. One of the only motor manufacturers in the world able to offer the complete range from 0.12Kw up to 355Kw in standard IEC frame sizes WEG also has a full range of Inverter Drives, Soft Starters, control Gear and MCC (Motor Control Centers).WEG is a ISO 14001 certified manufacturer, gained approval to ISO 50001:2011 (Energy management systems) last year, and has representatives on every continent in over 60 countries, and a network of 1100 service centres worldwide.