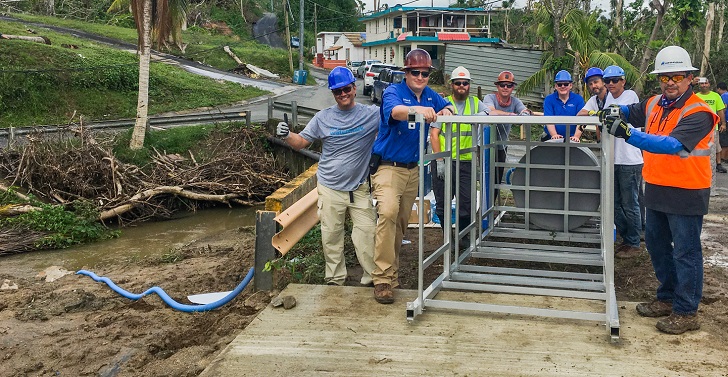 The pump industry can never be accused of being a glamourous one. Nevertheless individuals are often called on to perform vital and sometimes dramatic tasks in the midst of crisis and disaster – turning those participants into 'unsung heroes'.
This is the third of four examples of some industry professionals who answered the call above and beyond their everyday workload — risking their own personal safety to help others in the midst of crisis, disaster, or other unforeseen events.
Building water towers in Puerto Rico after Hurricane Maria
On September 20, 2017, Hurricane Maria made landfall in Puerto Rico. During the strongest storm the island had seen in 85 years, 155 mph winds brought total devastation to the 3.4 million residents of the Caribbean nation. Within hours, their power was cut, their land flooded, and their homes and livelihoods destroyed. Following the hurricane, volunteer teams from around the world worked alongside Puerto Rican communities–together battling stifling heat and humidity to clear roads, reopen schools, restore basic amenities, and rebuild homes.
Access to clean running water was one of the most urgent challenges facing Puerto Ricans in the aftermath of Maria. Without a safe drinking water supply, families resorted to drawing water from wells polluted with industrial chemicals, or from streams contaminated with sewage and dead animals. Although Maria had moved on, serious risks to the health of communities across the island remained.
One six-member team from water technology company Xylem joined its philanthropic arm, Xylem Watermark, and the nonprofit organization Planet Water to build 12 water towers in six days. Each tower provides up to 10,000 liters of clean drinking water every day to sustain up to 1,000 people.
Taking water for granted
"We all take water for granted," said Xylem market manager and sales engineer Nate Warren. "Living in the United States we have a privileged life. But when you go to a place where they don't have as much as we do, and then the rest is ripped from under them, it's humbling to see them be so thankful—to be so excited to have such a basic human need given to them."
Thousands of buildings, including homes, hospitals, and schools, were completely destroyed. Bridges were collapsed and huge swathes of precious agricultural land was flooded. The aftermath of the storm also left an alarming scarcity of water, food, gas, and electricity.
The six volunteers from Xylem included Warren of Los Angeles, California; market development manager Richard Barg of Toronto, Canada; sales manager Mainor Vega of Palm Beach County, Florida; senior applications engineer Hunter Powell of Charlotte, North Carolina; marketing manager Tim Main of Vancouver, Canada; and industrial diesel and pump mechanic Blake Buster of Dallas, Texas.
The frame of the towers are aluminum. At the top of each tower is a 1,000-liter storage tank. At the base is a filtration unit. At the base, there are also fill stations, or wash stations, installed. This provides the Puerto Ricans with wash basins and the ability to fill containers and water jugs. The simple design includes a structure of just 3 meters in height. In the rural settings where there was no direct water source, Xylem Saajhi stepping pumps were installed.
Humbling experience
"It was a humbling experience, coming from where we have everything and working in an environment that is truly in desperate need of water," Barg said. "In some cases, people were waiting with their jugs before we even got there because they knew they would soon have fresh water. People would tell us that they just couldn't afford to buy bottled water anymore. It was a special and rewarding experience to be able to do this for them." The towers require regular backwashing and will be maintained locally, with the support of Planet Water.
The hurricane hit on September 20. The team was onsite Nov. 7-14 and faced many challenges along the way. "The biggest challenge was that some locations were really far from hotel," Warren explained. "Also, there was severe heat mixed with humidity. The heavy rain was also a challenge. When we went to each site, we had no expectations of what we would eat. The locals always fed us. The locals didn't have a lot of food or resources, but they fed us and gave us bottled water. These were people who were going without. We had to deal with some power outages. It's easy to complain about something like that until you think about the bigger picture. 60% of the island didn't have power or running water. We just dealt with it and were up early the next morning building more towers."
Appreciative
Warren said he is appreciative of the experience. "The thing that really struck me was showing up on one site, we built the towers and the people were waiting with jugs in hand," Warren said. "Everyone was standing there watching us waiting for us to finish. The little kids came up first. When they put water in the jugs they first shook the jug and poured it out. These kids deal with contaminated water on a regular basis, so they knew they had to first clean their jug. It made me proud to support this important relief and see how thankful these people were. They were sincerely grateful. You could see it, and you could feel it. It was such a selfless effort from everyone on the team. People just went to work regardless of how hot or sweaty or hungry or thirsty they were."