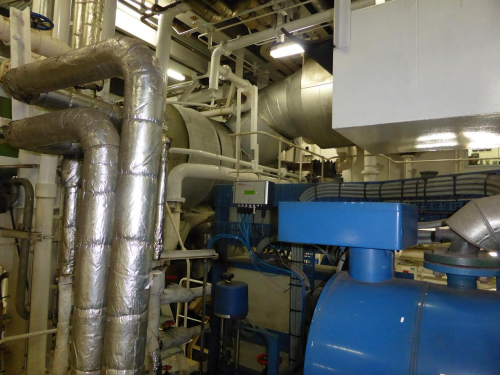 The digital edition of the magazine is distributed free of charge to readers who meet our qualifying criteria. You can apply to receive your free copy by completing this short registration form.
Schaeffler UK has installed condition monitoring systems on two ships operated by United European Car Carriers (UECC). The monitoring systems, which are installed in the ships' engine control rooms, are set up to monitor the vibration behaviour of the engine gearboxes.
As well as supplying and installing the condition monitoring hardware, Schaeffler is also providing UECC with ongoing exception-based remote monitoring services via V-SAT link. This service not only provides UECC with an early warning system for any potential gearbox failures, but also generates useful diagnostics and trend information that UECC can give to class inspectors (e.g. Lloyds Register) during routine ship audit inspections. These gearbox diagnostics reports eliminate the need for time consuming, one-off gearbox inspections, which cost tens of thousands of pounds per gearbox and cause costly delays while the ships remain in dry dock.
UECC
Founded in 1990 and headquartered in Oslo, Norway, UECC provides short sea RoRo transportation. The company transports around 1.5 million units per year, including passenger cars, commercial vehicles, high and heavy equipment and trailers,  to and from sea ports in the UK and Europe. UECC operates a fleet of 23 purpose-built vessels.
Two of UECC's vessels – the AutoStar and AutoSun – are fitted with Schaeffler's FAG DTECT X1s vibration monitoring systems. On each ship, a single, 8-channel Fag Dtect X1s system is set up to monitor four vibration points (two on the gearbox input shaft and two on the output shaft) on each of the two main engine gearboxes. The systems are mounted close to the gearboxes in protective enclosures. A panel PC displays the vibration data from each gearbox. The systems are connected to the ship's V-SAT communications system.
The Fag Dtect X1s is a condition monitoring system that is suitable for use in a wide range of industrial and marine environments, including the monitoring of rotating components and machines such as bearings, gearboxes, turbochargers, compressors, fans, pumps and drives. All commonly used acceleration, speed and displacement sensors can be connected to the Fag Dtect X1s, enabling process parameters such as speed, temperature, torque and pressure to be monitored.
Proving their worth
UK-based company HargreavesMarine, Schaeffler UK's partner for the marine industry, was responsible for the specification and installation of the Fag Dtect X1s systems, as well as the ongoing remote monitoring service. Bob Hargreaves, Managing Director of HargreavesMarine commented: "The condition monitoring systems were installed in early 2013 and have already proved their worth at UECC. If an alarm is generated from the Fag Dtect X1s systems, we can immediately see this regardless of where the ships are located in the world. We can see which bearing on which gearbox is responsible for triggering the alarm, and then decide whether action is required by the ship's engineers."
"We've adopted an exception-based monitoring strategy, whereby every 12 hours, vibration data from the gearbox monitoring systems is sent ashore to us via satellite link and cloud server. We can look at the vibration frequency of the bearings inside the gearbox in order to detect any deviations from the norm. We can therefore monitor the health of the gearboxes and notify the ships' engineers if any remedial action is necessary."
Monthly report
Chief engineers at UECC receive a monthly report showing the gearbox vibration data and measuring points over time. This information can be collated into annual reports or dry dock reports, which can be presented to class inspectors when an audit of the ship is carried out, which in the case of engine gearboxes, occurs every five years. As Hargreaves explained: "It's about being able to provide sufficient evidence to a class surveyor that the gearbox bearings are in good condition. If a surveyor isn't satisfied, they could request that the gearbox be disassembled to enable a visual inspection to be carried out."
"The cost of downtime in the marine industry is extremely high and so being able to remotely monitor the condition of critical, high value assets on the ship such as machines, drives and gearboxes, is becoming increasingly desirable for ship operators and managers. This is partly due to higher workloads and the reducing number of staff on modern ships, but also because the monitoring is carried out by a specialist, trained company that understands vibration data and how to analyse and interpret this. The marine operator therefore requires no specialist skills or knowledge, but gets complete peace of mind and is reassured that the health of their assets is being monitored continuously," he added.
Bearing replacement
Jim Belsham, Technical Superintendent at UECC is responsible for the remote condition monitoring installations on AutoStar and AutoSun. He commented: "When a ship's gearbox reaches 60,000 to 70,000 hours in service the last thing we want to do is to replace all the bearings inside the gearbox that are potentially still in good condition. Not only is this very costly and time consuming, but can also mean the vessel loses days generating revenue. Around two years ago we therefore looked for an alternative solution."
According to Jim Belsham aftermarket support was critical in selecting a suitable provider. "We didn't simply want a supplier to install the condition monitoring hardware and then leave it to UECC to analyse the data. Schaeffler not only provided a system that was tailored to our specific requirements but also supplies the necessary manpower and expertise to collect and analyse the vibration signatures of the gearbox bearings on the ships."
As Jim Belsham concluded: "With the Fag Dtect X1s systems and remote monitoring service contract, we now get a comfort factor and warm sense of security each time we receive a monthly report. We haven't found any unusual problems to date, but the system constantly reassures us that the gearboxes are not going to suddenly fail and cause costly downtime."  
The digital edition of the magazine is distributed free of charge to readers who meet our qualifying criteria. You can apply to receive your free copy by completing this short registration form.