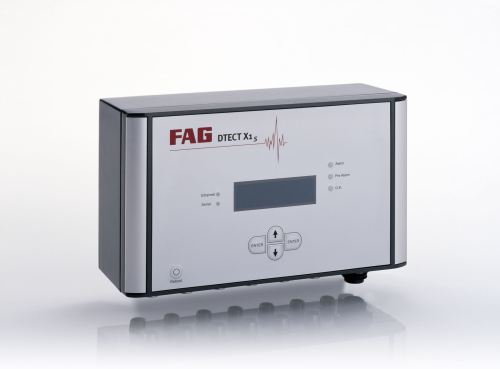 The new system is more compact than its predecessor and offers increased functionality and flexibility.
Individual modules – the monitoring unit and the multiplexer – are now integrated in a single, compact unit which measures 260 x 150 x 90mm. The integrated multiplexer enables the recording of signals from up to eight different sensors. 
The FAG DTECT X1  can save up to 16 separate monitoring tasks and execute these automatically. The system is protected to IP67 and can therefore be installed in harsh environments, in ambient temperatures from –20°C to + 70°C. All commonly used acceleration, speed and displacement sensors can be connected to the system, enabling process parameters such as speed, temperature, torque and pressure to be monitored. 
The system monitors vibration conditions, which if left undetected, can cause costly unplanned shutdowns of plant and machinery, Schaeffler says. These conditions include damage to bearings and gears, as well as shaft misalignments. If a specified threshold value or alarm limit is exceeded, the system triggers an alarm. The vibration monitoring data can be analysed directly on site at the central control station or this data can be retrieved via a TCP/IP communications link. 
The new FAG DTECT X1 s is suitable for a wide range of industrial vibration monitoring applications, including the monitoring of rotating components and machines such as bearings, gearboxes, compressors, fans, pumps, rolling stands, paper mills and drives.