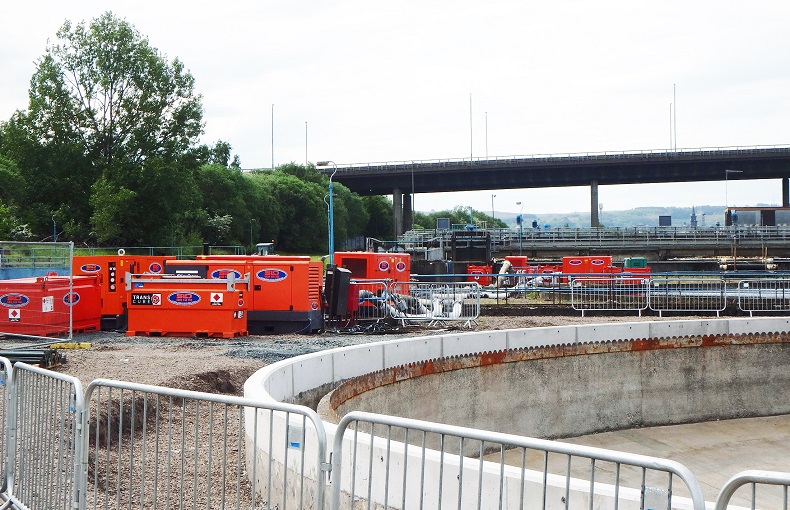 SLD Pumps & Power has completed a major project at a large wastewater treatment plant near Glasgow, enabling critical repairs to be carried out to the facility.
SLD high-capacity pumps diverted millions of litres of wastewater, allowing engineers to inspect badly worn channels and structures downstream in order to assess what repairs were needed. SLD Pumps & Power is a trading division of Carrier Rental Systems UK Ltd, part of Carrier, a leading global provider of innovative heating, ventilating and air conditioning (HVAC), refrigeration, fire, security and building automation technologies.
Space restrictions The hire specialist deployed a total of 12 high-capacity pumps, consisting of eight Hushpac CD225 pumpsets and four large Flygt N-type submersible heavy-duty sewage pumps. The units were positioned around existing balance chambers connected to six large primary settlement tanks. The space restrictions within the chambers required a mixture of large electric submersibles and diesel-powered end-suction pumps.
Enough pumping capacity was needed to meet a constant flow of around 1020 litres per second, with additional standby capacity of 464 litres per second, giving a total required capacity of nearly 1500 litres per second.
Following the pump deployment on site, delivery pipework was assembled by the contractor using existing standard rental fleet pipework in several runs, with the pumps connected via manifolds and isolation valves fitted to allow for maintenance.
Each submersible pump was powered by a pair of temporary SLD generators, to provide duty and standby capacity, with automatic mains failure to activate the standby unit in the event of failure. Both diesel-powered and submersible electric pumps were arranged to operate automatically on level floats.
Independent operation  "A significant benefit of using such a multi-pump system is that each diesel pump operates independently as a stand-alone unit," said Lisa Tweedie, SLD's area sales manager based in the Paisley branch, who led the project. "The system provides a high level of resilience not possible with interdependent approaches. The pumps were also fitted with telemetry units, enabling us to remotely monitor any alarm conditions. This enables us to respond immediately in the unlikely event of a problem and quickly rectify the situation."