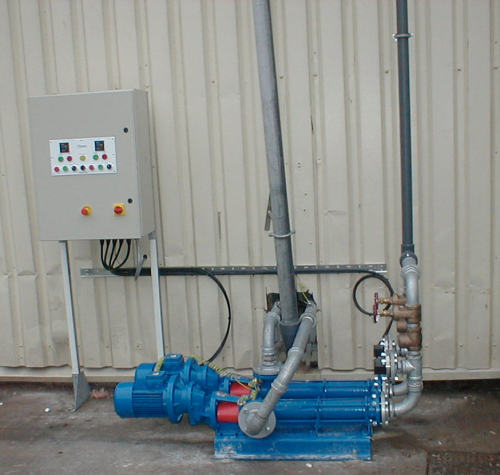 Grampian Prepared Meats is part of the Grampian Country FoodGroup, based in Livingston, Scotland. Established in 1980, the Group is a major independent foodcompany which produces a wide range of chicken, pork, beef and lamb products for the retail and foodservice markets.
The company wanted to comply with Pollution Prevention and Control (PPC) regulations at its Anglesey plant and have effective odour control without the considerable expense of installing a large air scrubber unit.
Previously, chicken blood was drawn from the collection sump in the production area, via a vacuum pump, to fill a pressure vessel. This blood was then transferred into a 30 tonne holding tank by a blower. But the necessary venting of this system to atmosphere gave rise to a disagreeable odour which did not meet latest regulations. Steps had to be taken ahead of the 2007 cut-off date for compliance with these rules.
Mono's solution was to replace the first stage vacuum pump and pressure vessel with duty/standby progressing cavity pumps to transfer the blood to the holding tank. A single duty pump was also installed to transfer the blood/water mixture to a road tanker for disposal. The new pumping system is entirely enclosed and proved the most cost-effective solution to achieve Grampian Prepared Meats' requirements and the necessary compliance.
A complete pumping solution
Mono was also able to design, install and commission the pumping system, including all necessary pipework, valves and control panel. This meant a 'complete' solution giving greater confidence that the process would operate smoothly from beginning to end, compared with a contract involving several partners.
The compact, duty/standby pumps transfer the chicken blood at a capacity of 6m3/h and a maximum delivery pressure of 0.74 bar. A larger pump operates at a capacity of 45 m3/h and maximum pressure of 0.43 bar to empty the holding tank and transfer the blood to the tanker.
"The Mono pumping solution has enabled us to meet PPC obligations and make the working environment more pleasant," said the engineering manager at Grampian Prepared Meats, Keith Taylor.
"Importantly the work was carried out during programmed shutdown to avoid disruption and after nearly a year of operation had delivered trouble-free operation as promised."