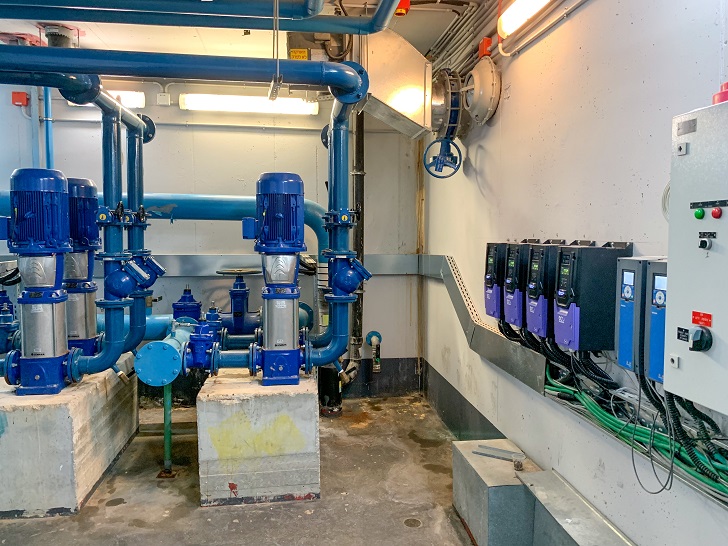 Requiring a constant and reliable water supply to medical wards, a Middle East hospital is utilising Invertek Drives Optidrive Eco variable frequency drives (VFD) with Optiflow technology as a solution.
Rambam Academic Hospital has a range of operating theatres and medical facilities providing emergency and medical care to patients over a number of floors in northern Israel. The hosptial had two water pumps in use which also supplied an emergency water tank for when the mains water supply stopped or was interrupted by power failure.
Energy savings Solcon Industries Ltd, Invertek's sales partner in the country, installed an additional two water pumps controlled by four Optidrive Eco VFDs to control and manage the supply, creating energy savings at the same time.
"By introducing two additional pumps controlled by Optidrive Ecos, we were able to introduce better management of the supply. The drives Optiflow technology provides flexible pump control. So, when demand is low it reduces the number of pumps required but always ensures a consistent flow," said Avi Even of Solcon.
"The individual pumps don't have to be working at full capacity all the time, thus reducing the energy costs, water usage and wear and tear on them, which in turn cuts maintenance costs and downtime."
Optimised flow Optiflow allows more than one drive working together to ensure an optimised flow. The first Optidrive Eco is the master and the other three are slaves. The master controls and commands the slaves with their speeds and run times.
The system is controlled intelligently based on demand using the internal PID function of the Eco drives. The system is never under stress mechanically, ensuring savings on reduced wear and tear or downtime.
The output pressure is continuously measured and sent to the master drive. The master then intelligently sets the on and off condition and speeds of all drives based on the internal PID and Optiflow functions.
The system is never shut down as if a drive or pump is out of service, operation transfers to another. The drives also detect and clear pump blockages, provide dry run and burst pipe protection.
Four 22 kW, three-phase, size four IP55 Optidrive Eco VFDs were installed to control the four 22 kW pumps.
Reliable water supply "The system means the hospital can rely on the constant and reliable water supply to all parts of the building," added Avi. "This ensures that medical staff and patients can be assured of a consistent water supply at all times."
The Optidrive Eco VFD can control AC Induction (IM) motors, AC Permanent Magnet (PM) motors, Brushless DC (BLDC) motors and Synchronous Reluctance (SynRM) motors. The drives product range covers 200-600 v single and three phase input and 0.75 kW to 250 kW, 1 HP to 350HP.
It comes in three enclosure options – IP20, IP55 / NEMA 12 and IP66 / NEMA 4X – and seven frame sizes, with OLED displays on IP55 and IP66 models.