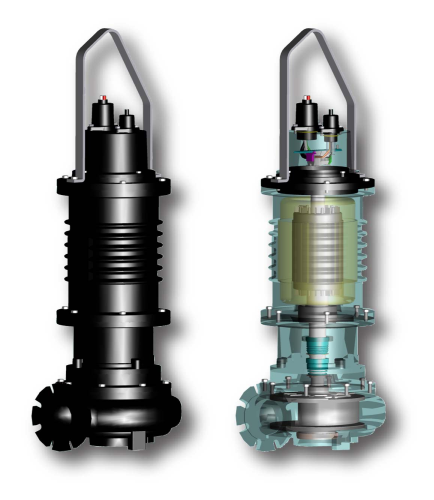 The new model Model 412.53SV submersible solids-handling pump incorporates a single-vane, trimmable impeller that can pass 3-in spherical solids. The pump's capacity range is 100 to 1100 GPM and it produces discharge pressure up to 175 feet TDH.
Yeomans says that the pump meets the increased demands of the sewage pumping industry with its ability to handle large solids and improved hydraulic design.
The model is provided in both free-standing and guide rail mounted configurations and is F.M. listed for Class 1, Div. 1, Group C & D hazardous locations. It has silicon carbide mechanical seals, moisture detection and thermal overload sensors as standard, as is the Modu-Cab cap and cable system. Motor sizes range from 15 to 40 HP.