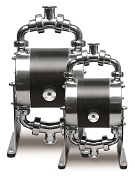 INTERPHEX 2017 will take place from 21 – 23 March at the Jacob K. Javits Convention Center in New York and the event brings together a wide variety of leaders from the pharmaceutical and biotech industries.
BIOCOR pumps from Almatec have been specifically designed for critical biotech and pharmaceutical applications by meeting the strict standards, regulations and operational requirements that govern these industries. Available with a 316L polished stainless steel wetted path, BIOCOR pumps provide superior containment and use ball-lifting magnets that can be attached to the pump housing from the outside at the location of the four ball valves. With the use of magnets, the ball valves can be lifted from their seats, allowing the pump to be drained entirely without needing to be disassembled or removed from the application. This enables clean-in-place (CIP) and sanitize-in-place (SIP) capabilities.
BIOCOR Series pumps are available in three sizes – B20, B32 and B40 – with maximum capacitates of 15 to 70 gpm (3.5 to 17 m3/h) at a maximum discharge pressure of 100 psi (7 bar).
Almatec will be presenting its BIOCOR Series pumps at Booth 2253 at Interphex, New York 2017.