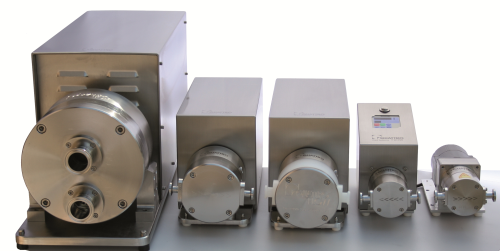 Quattroflow PD pumps incorporate a four piston-diaphragm technology with no mechanical seals that is driven by an eccentric shaft and motor. They are suitable for multiple and single-use applications, in pharmaceutical and biotech industries where there is a need for high containment, purity and cleanability. They can transfer shear sensitive media of aqueous solutions and biological products without damage. Quattroflow pumps feature wetted housing parts constructed with electro-polished 316L (Basel Standard II, ferrite content < 1%) stainless steel, while the valves are made of EPDM and the diaphragms of EPDM/PP compound. The Quattroflow product line consists of four sizes – QF150, QF1200, QF4400 and QF20K – with capacities of 2.6 to 333 lpm (0.7 to 88 gpm). 
In addition, Almatec will also display its BIOCOR and E-Series diaphragm pumps at Intephex. Biocor pumps are suitable for applications with the highest purity, containment and cleanability requirements. They can assure sterility and handle products containing protein solutions, cellular structures, and other shear-sensitive products.  
Almatec's solid block PTFE E-Series pumps are specifically designed for permanent applications and also single-use applications handling critical and even hazardous biopharmaceutical substances. The E-Series can be in advanced applications where high chemical compatability and full containment/leak free design are required.