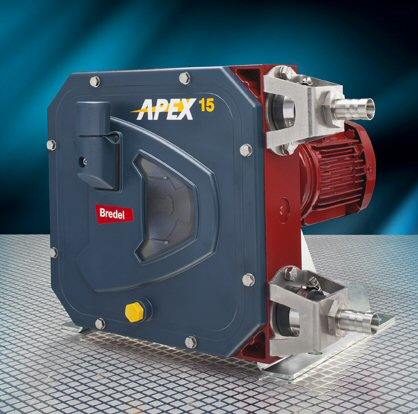 Bredel APEX hose pumps, from Watson-Marlow Pumps Group, have no expensive wearing components such as seals, valves, membranes, stators, rotors or glands to maintain. They are therefore suitable for handling difficult fluids, including corrosive, viscous, shear-sensitive, gaseous, crystallising or fluids with a combination of these properties.
Applications in the water and waste area include lime and kalic slurry, sodium hypochlorite, and ferric chloride.
Offering pressures up to 116 psi, along with reliable and stable flow up to 317 GPH, APEX pumps are suitable for ongoing, precise dosing.
Low maintenance 
Bredel APEX pumps are reported to have extremely low maintenance requirements, giving extended up-time and therefore process continuity.
With a cast aluminum housing, providing superior heat dissipation, robust direct-coupled technology and precision machined hosed elements, APEX pumps provide decreased cost of ownership, reduced operating costs and low inventory stocking.