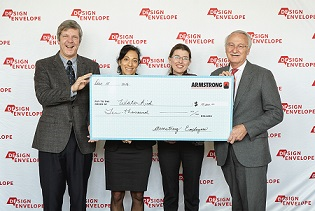 The donations were raised as part of an employee Rising Stars international talent show. Contributions were generated through kick-off events at all Armstrong locations around the world and by supporting employees who submitted videos of their special talents.
All Rising Stars videos were posted on an internal Armstrong Fluid Technology website and voted on by employees. Submissions included videos of employees singing, playing musical instruments, dancing, acting, performing magic tricks, and demonstrating arts and crafts. Employees all over the world participated and generated funds in support of WaterAid.
"We felt the Rising Stars program was a great way to support such a worthwhile organization while at the same time recognizing our employees for both their unique talents and charitable contributions," said Laura Morris, Armstrong's Global Communications Manager who created the concept and oversaw the program.
The Canadian government added another C$30 000 in matching funds to bring the total donation to C$40 000.