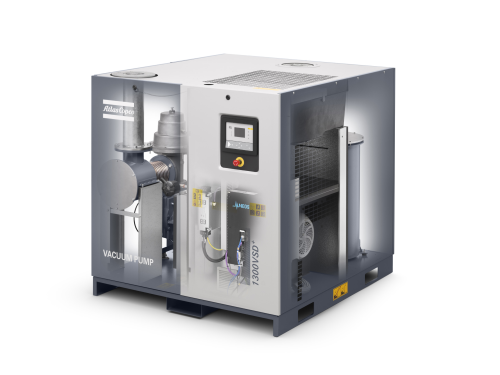 The company says its new GHS 1300-1900 VSD+ is built upon the success of the GHS 350-900 VSD+, which set a new benchmark for vacuum pumps when it was unveiled in 2015.
Incorporating variable speed drive (VSD) technology to keep power closely aligned with fluctuating production demand, Atlas Copco says the GHS VSD+ range delivers energy savings of up to 50% compared with conventional fixed-speed vacuum pumps. In addition it offers plug-and-play simplicity, advanced control features and lower-than-average noise levels.
The GHS 1300–1900 VSD+ is an oil-sealed rotary screw vacuum pump with a range of 1300 to 1900 m3/h and an ultimate pressure of 0.35 mbar(a). However, its footprint is less than 2.3 m3, enabling easy installation without taking up valuable floor space at a production facility.
The pump is suitable for centralised vacuum systems, glass bottle manufacture and canning, as well as many other applications. It is also available as a turbo version if fast evacuation times are needed. It enables faster cycle times for higher production and is ideal for meat, cheese and chicken packaging, as well as cooling. For wet applications such as plastics, clay moulding and drying of pipelines, customers can choose the GHS VSD+ as a humid version.