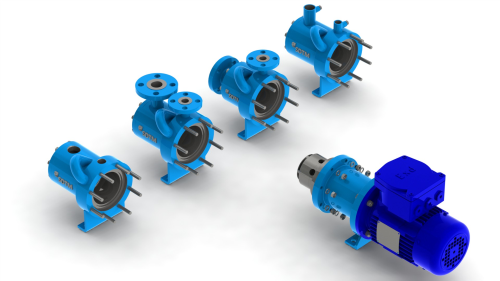 Magnetic drive pumps offer high levels of liquid and vapour containment and are a highly effective solution for a great many challenging applications, in particular handing liquefied gases. Such applications are now being addressed by AxFlow with its Aturia SDTM pump range.
The Aturia range of SDTM magnetic drive multistage centrifugal and turbine process pumps has been developed specifically for applications requiring low flow-high head in low NPSH systems. Applications highlighted by AxFlow include liquefied gases such as NH3, CO2, LPG and butane as the pumps particularly suit high end refrigeration applications due to their ability to cope with thin liquids and the containment provided by the magnetic coupling.
Two or three stage configurations
AxFlow's SDTM pumps are available in two or three stage configurations, with both having a centrifugal first stage impeller/inducer to achieve low NPSH values. The second and third stages utilise regenerative turbines to develop the high heads. As they are machined from solid metal they offer a robust construction and along with their seal-less design provide a reliable and durable solution suitable for refineries, chemical plants and OEM systems. When required, the SDTM pumps can be built into an API-685 configuration.
The range comprises two basic models, the first being the SDTM 39 2s; two stages with a flow from 0.5 to 10 m³/h and head up to 140 meters (50 Hz) or 2 to 50 US gpm and head up to 600 ft (60 Hz). The second is the SDTM 39 3s; three stages with flow from 0.5 to 10 m³/h and head up to 180 meters (50 Hz) or from 2 to 50 US gpm and head up to 900 ft (60 Hz).
Preventing back flow
The hydraulic design of both pumps prevents back flow, while achieving a stable curve with extremely low NPSHr values (lower than 1 meter or 3 ft) at the same time circumventing the need to implement throttling valves or orifice plates.
The SDTM concept has a shaft supported on two over-designed sleeve and journal bearings made of SiC/Carbon. Due to the regenerative turbine self-balancing impeller(s), radial and axial thrust loads have been minimised, even in the presence of high suction pressures. The SDTM operational characteristics, compared to conventional pumps, provide improved reliability by reducing vibration and shaft deflection. The axially 'floating' impellers feature ample clearances, thus allowing a reliable operation in extreme temperatures, accommodating thermal expansion or contraction.