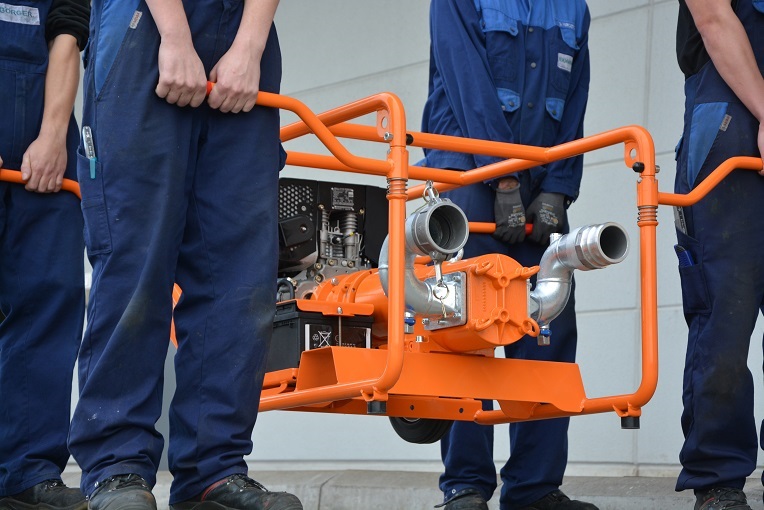 To meet the demands of ATEX, electric mobile pumps are now showing their advantages. "I think there's still some lack of awareness that ATEX-approved electric-drive mobile pumps are available", said David Brown, managing director of Borger.
Borger sells mobile pumps that are diesel as well as electric, so Brown is keen to stress that he's not on an anti-diesel crusade. Where needs must, especially for emergency use where no power supply is available, there are no end of Borger pumps in operation, 
However, where mains power is available, electric-driven mobile pumps, which are lighter, less cumbersome and better for the environment have advantages over costly (storage, transportation, labour) diesel units,
In order to be able to use the pump everywhere on rough premises of one refinery, the mobile unit (including the drive) is mounted on a base-frame equipped with fork-lift openings and crane lifting eyes. A telescopic loader or a crane transports the pump to its respective application site.
The fluids are often polluted with organic solids, so a filter system is in place to separate them out. Without hardly any pulsation, tri-lobe screw rotors pump the medium, with only the lobe tips of the rotors needing replacement in case of wear. 
"The unit is operated from a fully ATEX-compliant control cabinet on the actual mobile unit", says Brown. "This makes everything so much more convenient for the operator. If defined pressures or temperatures are exceeded, the pump switches off automatically. And in order to protect against uncontrolled pressure surges, the mobile pump is equipped with a Variocap and a bypass with rupture disks. Knowing that everything is ATEX-compliant provides great peace of mind".