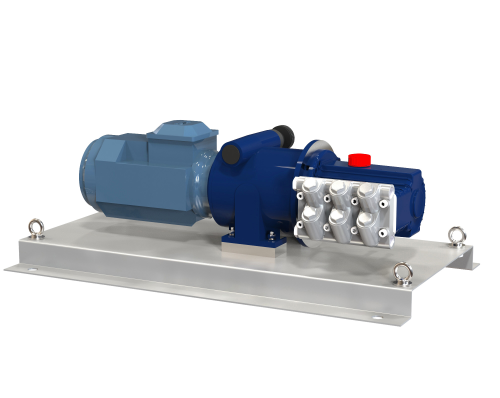 These seal-less pumps feature precise mechanical variator control and are designed for use in ATEX classified environments, coupled to compatible, explosion-proof motors, removing the need for complex and costly external VFD ATEX control.
Hydra-Cell pumps are positive displacement pumps and flow rate is directly proportionate to input shaft speed and virtually independent of system discharge pressures. Very precise and repeatable, infinite adjustment of shaft speed is achieved from almost 0 rpm, through a simple manual adjust hand wheel on the variator.
Flow rate is adjustable in operation and at rest and exhibits linear setting characteristics. Once set, the wheel can be locked to prevent the flow being changed, either by accident or deliberately.
Meeting or exceeding API 675 performance requirements in terms of repeatability, linearity and steady state accuracy, Wanner says Hydra-Cell dosing performance pumps are a low maintenance, efficient, low lifecycle cost option.
Wanner Hydra-Cell pumps are used for liquid transfer, metering, injection, spraying and dosing of a wide range of liquids including chemicals, solvents, acids, hydrocarbons, natural gas liquids, alkalis, polymers, aqueous ammonia, resins, and slurries.