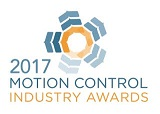 The sector includes hydraulics, pneumatics, compressed air or electro-mechanical drives and individuals can nominate themselves and their own company, or they can nominate others that they know merit recognition.
The awards ceremony will be staged on 9 May 2017 at the National Conference Centre near Birmingham. It will bring together the entire motion control industry in a celebration of business and professional excellence.  Recognising and rewarding the achievements of both individuals and companies operating within this important industry sector, personal endeavour, technical innovation, engineering advancement and commercial acumen will all be acknowledged and celebrated.
The closing date for all entries is 5.00pm on 24 February 2017.  So for those wanting industry-wide recognition for a job well done, be it for technical innovation or application know-how, for environmental consideration or distribution and supply, they should make a note of this key date.  Anyone wishing to make a nomination can do so on the MCI Awards website.