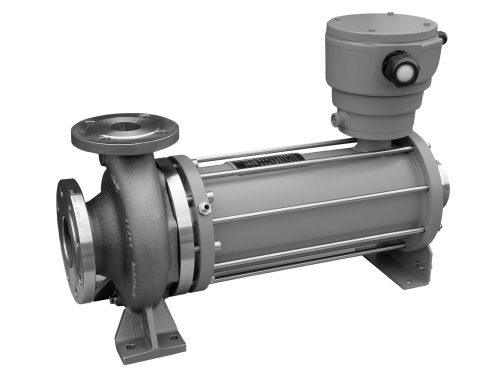 The HCN/HCNF range of canned motor pumps from Hermetic Pumpen has been designed for demanding applications, with the HCN series suitable for aggressive, inflammable, toxic and highly volatile liquids, solvents or other substances. The HCNF range is used for liquid gases, such as ammonia, Freon, propane and carbon dioxide.
The new canned motor pump meets EN 22858 and ISO 2858 standards and covers a temperature range from –120 °C to +120 °C. Pump performance is between 6 and 41 kW, with a maximum flow rate of 230 m3/h and a maximum head of 140 m.
The Hermetic pump features an integrated monitoring system for rotation direction (ROMi) moulded in the terminal box. There is also a thermistor (KL180) secured in the winding to protect the motor and a temperature monitoring unit using a T30 thermostat or PT100.