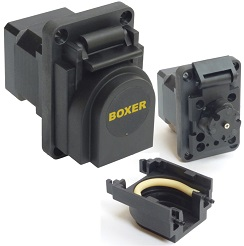 Designed for OEM applications, each pump model is rated for continuous operation and available with either three, four, or six roller systems.  The Series 9K/9QQ is available with several 12 or 24 VDC motor and gear box options plus a 24 VDC stepper motor version with a NEMA 17 rating.  The DC motor and gear box options are 12 VDC - 116, 260 or 520 RPM or 24 VDC - 33/107, 315 or 520 RPM. 
Series 15KS/15QQ offers an easy "Clip-On" pump head and a clamshell design to facilitate tube changes.  The 15K/15QQ Series is available with several DC motor options and a 24 VDC stepper motor (NEMA 23) option. These peristaltic pumps are available in a 12 VDC - 312 or 437 RPM or 24 VDC - 298 or 420 RPM gear motor versions.
Available stepper motors offer the versatility of finite speed control, and the DC motors can optionally be configured with an integrated encoder for motor shaft position feedback to provide accurate dispensing of liquids. Depending on tube size and the motor selected, Series 9K/9QQ deliver flow rates up to 200 ml/min, while Series 15KS/15QQ has flow rates up to 900 ml/min.