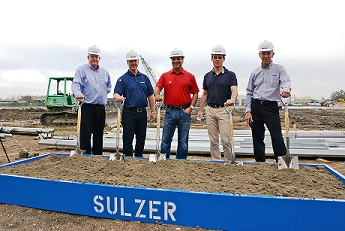 The new service centre, which is due to open in autumn 2017, will provide increased pump maintenance capacity as well as additional technical support.
It is being built next to an existing service centre for electro-mechanical services, and will be Sulzer's regional headquarters for pump services in the Americas.
"Our current Houston facility has served us well, however, the new facility allows us to expand and pursue our strategy for regional growth," said Jim Mugford, president, Electro-Mechanical and Pump Services at Sulzer.
"In addition to the increased workshop size, we are also investing in additional test, measurement and precision machine tools for completing modifications, repairs and upgrades to both Sulzer and third-party pumps. We will also be able to capitalize on synergies being located adjacent to our Sulzer electro-mechanical services facility which provides unique solutions by offering customers a one-stop service for both electric motors and pumps," said Mugford.