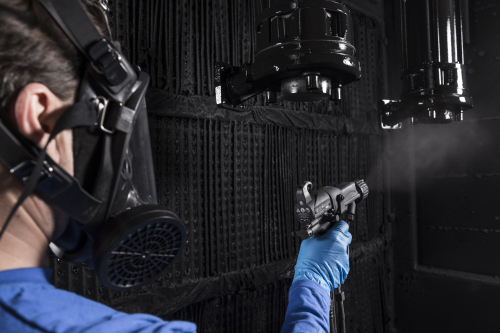 Zenit has introduced a new type of coating for industrial-range models, soon to be extended to all output, which upgrades pumps' quality and resistance to aggressive agents. This new coating consists of a layer of modified epoxy resin that delivers long-term protection even after just one application. The modified epoxy resin continues to catalyse even when immersed in water, providing outstanding resistance to galvanic corrosion - ideal for use on submersible pumps, constantly immersed in water and aggressive environments. •    It does not absorb water, meaning no blistering. •    It does not crack or form air blisters, adhering to the surface even with damp, grease or dust present. •    It provides better coverage due to low dispersal during application.
Fields of application
It is used in environments with high corrosion risk, such as piers; locks; the chemical industry; and the wastewater treatment systems of the paper and wood transformation industries. It is mainly intended for use on offshore platforms, it can be used with seawater and is resistant to immersion-induced catalysis.
Zenit's objective
The objective of the new Zenit coating is: •    To increase its products' quality. •    To guarantee a standard protective coating 200μm thick (*) with up to 400μm on request. •    To extend the application of the new type of coating to the entire range to make it even more reliable.