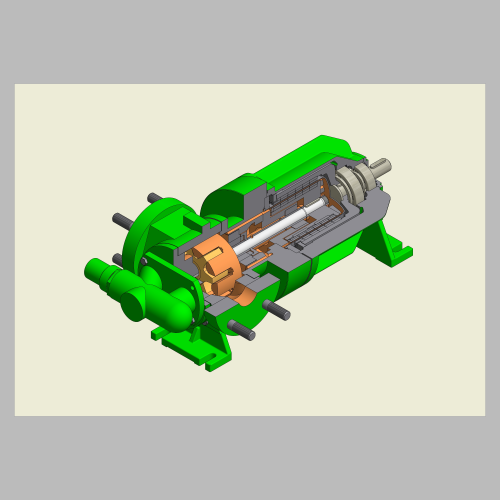 Magnetic driven GML/GMB-pumps are designed to improve plant and personnel safety, especially when handling toxic, explosive or other dangerous liquids which react on contact with the atmosphere.
For all these services the containment shell replaces the single or double acting mechanical seals with external fluid reservoirs and the necessary control equipment. GML/GMB-pumps therefore offer benefits to the chemical, petrochemical and allied industries, and protect the environment. The pump handles everything from bulk transfer, chocolate and asphalt, to high-temperature fluids and chemical processing.
The rotor and idler gears are made of tough materials, which can handle the stresses of high viscosity operation. No need for steel rotor upgrade. Revolutionary patented lubrication method extends overall life by reducing friction.
Unlimited lifetime
The single elements of the multipolar magnetic coupling are manufactured of permanent magnet material 'Cobalt Samarium' with unlimited lifetime. The magnets in the driven rotor are completely encapsulated, not in contact with liquid. Power is transmitted to the hermetically sealed liquid end by a bank of external magnets. Inner and outer magnet rings are locked together by magnetic forces and work as a synchronous coupling. The containment shell is a one piece deep-draw design without additional welds.