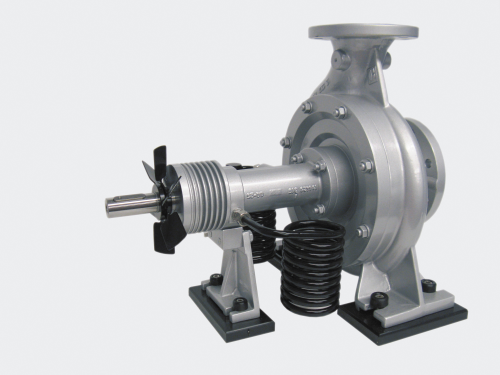 The dimensions and performance range of these centrifugal pumps are according to DIN EN 733, which means range is subdivided into different pump sizes in order to achieve best efficiency for all service conditions inside the envelope.
The NKX is used as a circulation pump for hot oils in industrial heating plants/units. The performance range covers capacities up to 400 m3/h and differential heads up to 90 m in 50 Hz services; and capacities up to 2500 US-gpm and differential heads up to 400 ft in 60 Hz services.
The bearing bracket with additional air cooler is specially designed to handle heat transfer oil. With this new design the application range of the pump is now extended to 350°C, without water cooling. That means the pump can now be also used in applications that earlier required double acting metal bellow seal systems.
An advantage of the new NKX-pump design is that the mechanical seal chamber does not require manual, external filling and venting. As the pump is self-venting there is no need to collect and dispose any spilled oil, and no operating personnel may be harmed or injured during venting of the hot pump.
Even at high mechanical seal temperatures the danger of oil carbon deposits is greatly minimized through the lack of oxygen. The cooling coil allows operation of the pump up to 3500 rpm.