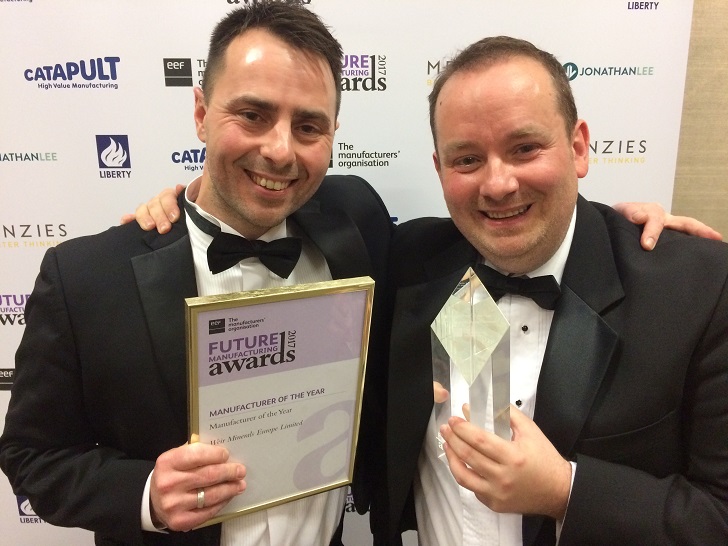 Weir Minerals Europe received the Health and Safety Award at the EFF's (formerly Engineering Employers' Federation) Future Manufacturing Awards in London, UK.
The Todmorden, UK-based company also scooped the Winner of Winners award – a title awarded to the most outstanding company amongst all the category winners.
Weir Minerals said the panel of judges was impressed with its continued commitment to investing in technology and efficiency, in addition to its 'zero harm' workplace policy.
Weir Minerals Europe has invested specifically in addressing ergonomic and musculoskeletal risks, driving home the message across every service centre and office in its region which covers Europe, North Africa, Turkey and Central Asia.
Jan Peter van Leeuwen, Weir Minerals Europe's managing director, said the award highlighted both his team's dedication to health and safety excellence, and the company's culture of innovation. 
"This is an incredible team effort," said van Leeuwen. "We are proud to have secured this ahead of so many leading companies and it is an acknowledgement of our exceptional people, who make these milestones possible. We must continue to work closely together to deliver outstanding solutions for our customers."
Stephen Phipson, CEO at the EEF, said: "Weir Minerals Europe is a fantastic example of a company that has moved health and safety from simply 'compliance' to true 'innovation' – reaping the rewards for their efforts. This award is justly deserved, but their real award is the greater employee wellbeing and operational efficiency that high levels of health and safety engagement and standards brings."
Weir Minerals manufactures wear-resistant, highly engineered processing equipment sold to a range of sectors including mining and minerals processing, aggregates, water and industry in general.