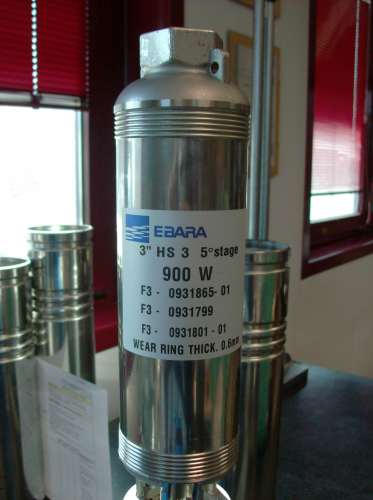 While more than 70% of deep wells are 4-inch in bore, some of the old wells have been distorted due to ground movement, which can make it difficult to fit a new 4-inch replacement pump into an existing 4-inch well.
The newly developed Ebara 3-inch deep well submersible pump addresses this problem as it can fit the existing 4-inch deep well. Although the sizes (diameter and length) of the new 3-inch pump from Ebara are much smaller than the conventional 4-inch pump, the capacity and total head are the same or even higher than the 4-inch pump.
The Ebara 3-inch pump is driven by an oil filled high-speed motor at 8400-rpm nominal speed with built-in frequency converter.
The new Ebara product line covers the flow ranges of 2, 3 and 5 cubic metres/minutes with 0.6kW, 0.9kW, 1.5kW motors and total head up to 160 metres.