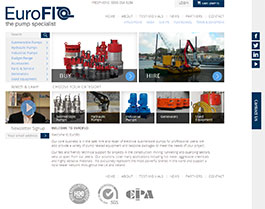 Euroflo Fluid Handling, Exclusive UK distributors of the Dragflow, Grindex and Marelli brands launch new site as they increase their marketing efforts and launch into an E-commerce side of the business
The new e-commerce site is designed to promote their submersible pump and pump related equipment in a clear and concise manner and aims to appeal to both technical and non-technical users. It provides technical data, application stories and digital media, bringing a modern look and feel and fresh content to an otherwise lack lustre offering.
"We understand demand for digital communication and how critical it is for business and attracting new markets. Instead of aiming at the initiated, www.euroflo.com combines e-commerce with education in an accessible and usable manner making the experience a pleasant one for student and engineer alike.Submersible pumping is cheaper and more effective than other pumping applications but our research showed that there was lack of good content and knowledge.
Our website will plug that gap and makes submersible pumping seem more accessible and like a more viable option for a multitude of projects." Jo Lavelle, managing director
In their 20 year existence Euroflo have worked on some big projects, including Cross Rail and the Dublin Port tunnel, and believe the web is a way of making the industry more aware of the just how hard they have worked since forming.