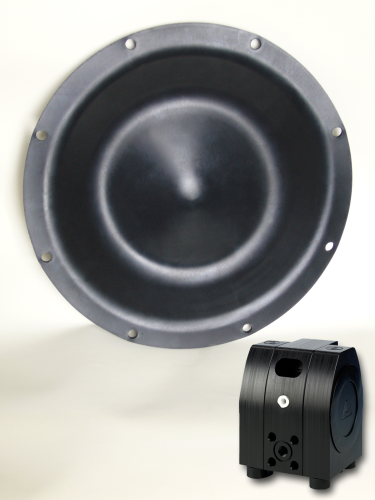 Air-operated double-diaphragm (AODD) pump manufacturer, Almatec, who specialises in plastic pumps with solid housings, has upgraded its E-Series plastic AODD pumps with electrically conductive PTFE (polytetrafluoroethylene) diaphragms to provide safer transfer of chemicals while avoiding dangerous electrostatic discharge.
Pumps with non-conductive diaphragm materials can be susceptible to electrostatic discharge. Static can accumulate in liquid being moved or transferred through a non-conductive pump, leading to a sparking in a flammable vapor-air mixture. One common cause of electrostatic discharge occurs when the pump runs dry, which means the pump will continue to operate even after the chemical has been depleted. To prevent the pump from running dry, operators will have to insert nitrogen, water or carbon dioxide once the fluid transfer has been completed to avoid potentially dangerous electrostatic discharge.
Almatec claim that its E-Series pumps equipped with conductive PTFE diaphragms can be used without risk in applications found in explosion-proof areas that involve flammable liquids. The E-Series design and use of conductive materials in the construction of the pumps, means there are no additional actions required for the prevention of dry running. This allows the Almatec E-Series pumps to meet the ATEX requirements for use in explosive or hazardous areas, enacted by the European Union.