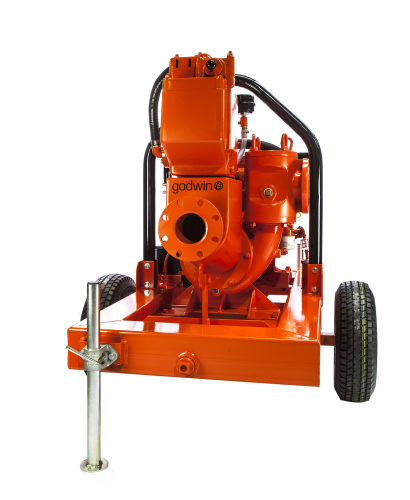 The Godwin Vac-Prime is a highly efficient, automatic, self-priming dewatering solution suited to well-pointing. The new pump was unveiled for the first time at the Bauma trade show in April, in Munich, Germany.
Designed for easy movement and transport, Xylem's Godwin Vac-Prime is compact and does not require specialist transport. With its lifting frame, fork pockets and optional wheels, it needs minimal on-site equipment. The speed of air evacuation that it delivers is due to a combination of the vacuum pump and the fast-priming system.
Godwin Vac-Prime 4 in and 6 in models can manage heads of 11-25 m, flows of 100-374 m³/h and solids handling of 45–75 mm. The fully automatic, self-priming pump is designed for a range of applications including draining canals, dewatering open excavations, basements, quarries, pumping water containing solids, pumping bentonite and drilling muds well as well-pointing. The pump comes with a durable, cast steel impeller to aid shatter-resistance.
The Godwin mechanical seals run in an oil bath which dissipates the heat allowing for dry-running without seals over-heating and cracking. The wet end Xylem's Godwin Vac-Prime is based on the design of larger Godwin Dri-Prime pumps.