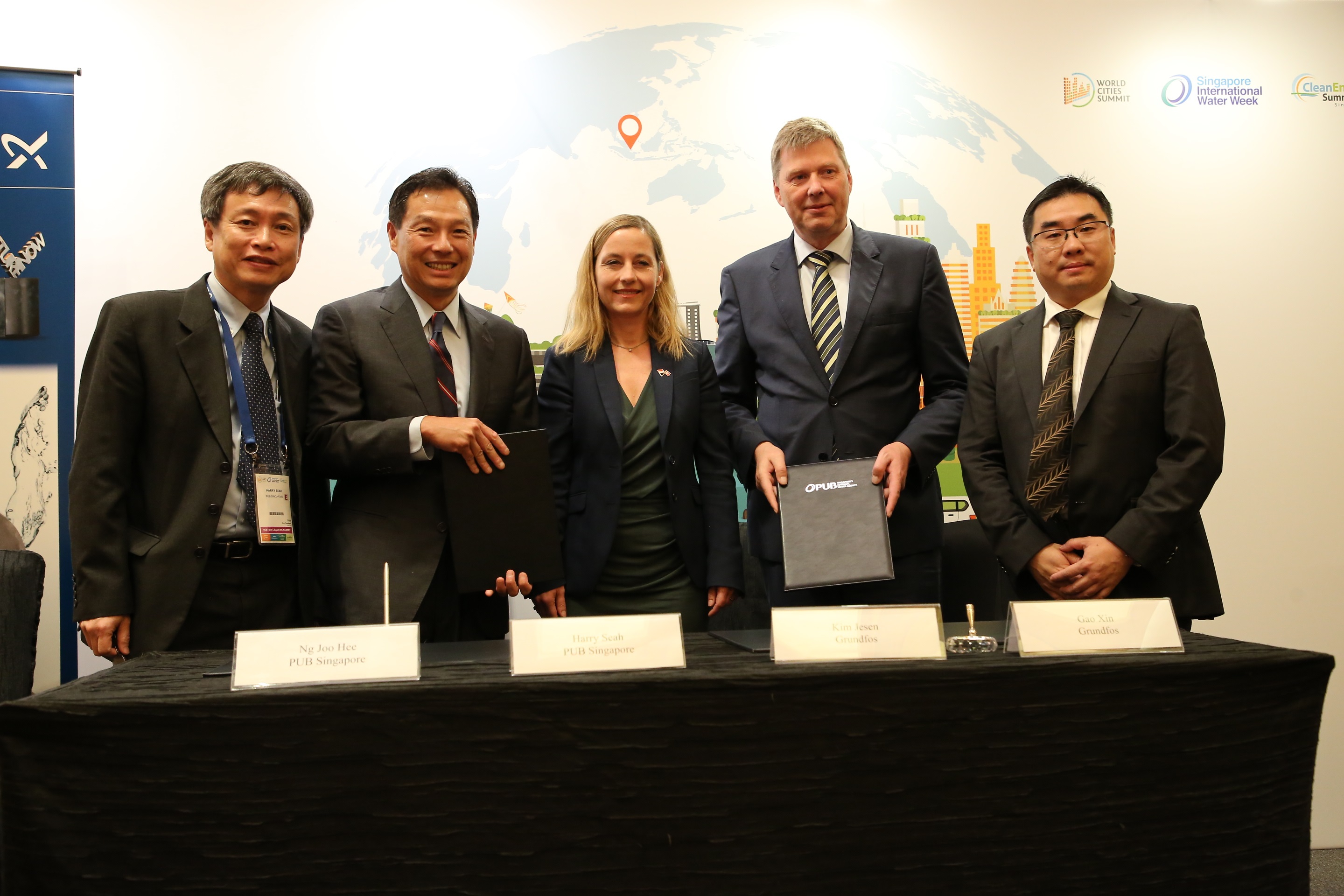 Grundfos and PUB, Singapore's National Water Agency, have signed a memorandum of understanding (MoU) to jointly develop efficient water technologies and solutions.
The 3-year agreement was signed at the 2018 Singapore International Water Week (SIWW).
Building on an agreement established by Grundfos and PUB in 2014, this latest MoU extends the collaborations between the two organisations to continue to work together on research and development projects in water treatment technologies, water quality monitoring technologies and digital water solutions, as well as applications of high efficient pump solutions in water treatment.
"Water demand is rising across homes and businesses, and it is set to double by 2060," said PUB's Assistant Chief Executive (Future Systems and Technology) Harry Seah. "To meet this demand efficiently, it is imperative for Singapore to continue investing in research and development to secure our water supply for future generations. We are excited to strengthen our collaboration with Grundfos by sharing our expertise to develop sustainable water treatment solutions together."
Grundfos regional managing director Asia Pacific, Kim Jensen said: "This strategic agreement aligns to both PUB and Grundfos' agenda on developing sustainable water supply solutions. We realise that this collaborative partnership can lead to potential solutions that will support not only Singapore's efforts in ensuring a sustainable water supply, but can become a case study for other countries and cities as well. As a company, Grundfos is firmly committed to becoming a true global role model within water and climate."
The 2014 agreement saw the development of two water innovation projects – the Cake Filtration project and the BACMON++ project.
Completed last year, the Cake Filtration project was pilot-tested at the Kranji Water Reclamation Plant and explored a new wastewater treatment concept that used sludge generated from the treatment process to filter the wastewater. Grundfos is currently exploring possible applications of the technology.
The BACMON++ project is aimed at demonstrating and evaluating the operational value of applying Grundfos BACMON sensors in PUB's water supply system. Grundfos BACMON technology offers on-line monitoring of total bacteria concentration in near real-time. Several BACMON sensors will be installed at suitable PUB service reservoirs for further testing. If successful, the BACMON sensors could be applied within PUB's water supply network to ensure safe water storage and delivery.