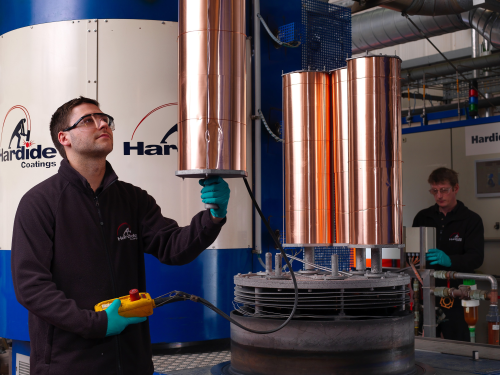 In January 2015 the company commenced an investment of up to $7million in Martinsville to expand its production operations to North America. The new facility is expected to create up to 29 jobs over the next three years.
This expansion has been driven by increased demand from North American customers, with sales to the US and Canada more than doubling during 2015. The 26,000 square foot facility in Martinsville-Henry County, will service customers for the company's patented range of hard wearing tungsten carbide coatings in the oil and gas and flow control markets. In addition, the company also plans to expand in the aerospace and advanced engineering sectors and develop applications for its newly-patented coating for diamonds.
Philip Kirkham, CEO of Hardide plc said: "We have installed two large capacity chemical vapor deposition (CVD) coating reactors and work is already progressing well on some very exciting customer trials."
The range of Hardide coatings are highly abrasion, erosion, corrosion and chemical resistant while also being tough, ductile and impact resistant. Applied by chemical vapor deposition (CVD), the process can not only coat external, but also internal surfaces and complex shapes. Hardide says the coating technology is proven to offer dramatic improvements in component life, delivering cost savings to customers through reduced downtime and increased operational efficiency.