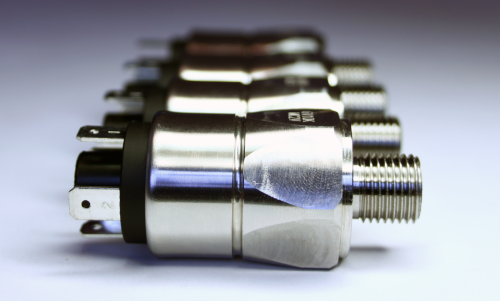 The new SQ high range mechanical gauge pressure switches are now available in three versions: the cost effective SQ275-RH1 zinc-plated SPDT (single pole, double throw) pressure switch; the SQ276-RH1 stainless steel SPDT version for media compatibility; and the SQ27U-RH1 brass SPDT pressure switch. All three switches are user-adjustable between 50 and 100 bar.
The switches are suitable for process control applications, including pressure control for piping systems, lubrication systems, hydraulics and pneumatics, air compressors, hydraulic detection for fire fighting systems, sprinkler systems, medical equipment, and tyre manufacturing.
The SQ high range pressure switches have NBR diaphragms as standard, with Viton and EPDM diaphragms available as options. Electrical connection is made by simple spade terminals and the switches have a G1/4" male process connection. The switches can operate in temperatures from -10 oC to +100oC. Response frequency is 2Hz and accuracy is +/- 5% FS.