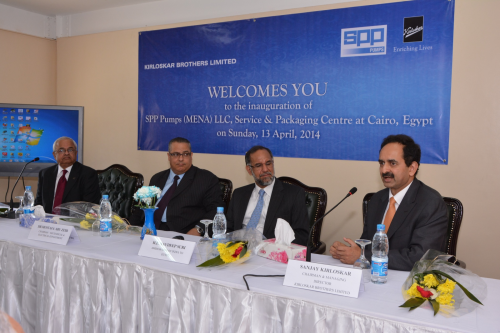 In addition to assembling and packaging pumps, the new SPP facility will provide value added services such as energy audits, system analysis, vibration analysis, on site testing, refurbishment solutions and maintenance contracts.
Sanjay Kirloskar, chairman and managing director of KBL, said: "Kirloskars have an historic association with Egypt and we are happy to have deepened this association through the new SPP Pumps facility in the region. The new facility will further enhance the joint efforts of KBL to bring the appropriate and adaptable solutions to improve the Irrigation programme in Egypt."
"Having made our mark in Egypt, setting up a value-added engineering centre was the natural step forward for brand Kirloskar. This facility is the first establishment in Egypt to receive UL certification for assembly, testing and packaging of firefighting pumping units conforming to NFPA 20 / FM/UL requirement. We expect to at least double our business in the coming years in Egypt," said Alok Kirloskar, managing director of SPP Pumps.
Headquartered in the UK and acquired by KBL in 2003, SPP Pumps has local sales, production, test and service sites in the USA, India, France, Italy, Poland, South Africa, Singapore, Dubai and Abu Dhabi.