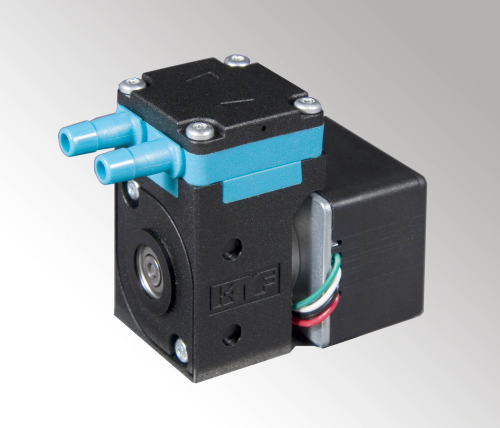 The diaphragm pump has a compact size and can handle liquid and gas-liquid mixtures at a flow rate up to 250 ml/min in <2.3 in3. 
The NF25 pump from KNF Neuberger integrates an anti-cavitation chamber on the inlet side to promote extremely quiet operation, higher flow and fewer air bubbles in the pumped liquid. Flows to 0.25 l/min, self-prime to 9 in. Hg, and continuous pressure to 14.5 psig can be achieved. The pump also includes a valve system which creates a linear flow-to-motor speed curve. Standard versions are offered with brush DC, ironless core DC, or a 4-wire brushless DC motor.
The NF25 diaphragm pump is suitable for simple dosing applications such as drink dispensers, medical devices, fuel cells, inkjet printers, semiconductors, cleaning and disinfectant devices, and water treatment.