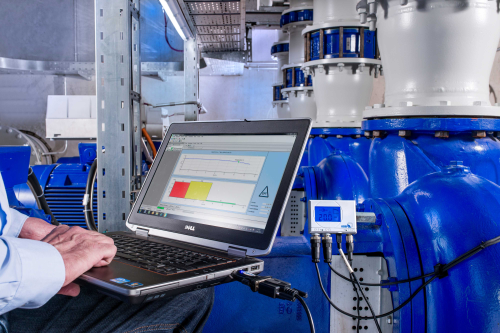 Designed to determine the savings potential of fixed-speed pumps, Pump Operation Check is a new service offered by KSB.
Worldwide, several thousand fixed-speed pump sets have already been equipped with the PumpMeter monitoring unit. Based on the load profile this unit records for the pump, KSB provides tangible recommendations for action to increase the efficiency and availability of the analysed pump.
For the analysis, pressures are measured for a representative period of time. It is crucial for this period to be of sufficient length to produce reliable results on the system's load profile. The measured data is read from PumpMeter without any impact on the operating process and without any risk of interfering with the operation of the system.
Retrofitting recommendations
Should a pump not already be fitted with a PumpMeter, such a unit can be retrofitted for fluid temperatures between -30 °C and +140 °C. If an analysis reveals that a pump is not running at its optimal operating point, experts may recommend retrofitting a variable speed system, adjusting the impeller diameter or updating the drive. In certain circumstances, replacing the previous electric motor with a KSB SuPremE motor of efficiency class IE4 may be useful.
Following the Pump Operation Check each customer receives a findings report including a profitability analysis. Provided with this knowledge, operators can decide what measures they would like to take to save energy.
Apart from saving energy, an optimised operation also prolongs the service life of the pump. Operation in accordance with the intended use significantly decreases the load on many mechanical components, for example on the bearings, mechanical seal or impeller, so they will last longer too.