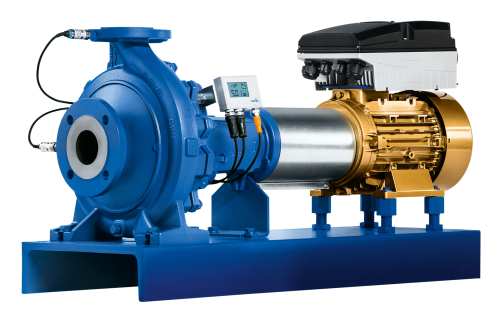 The company will be showcasing its 45-kW version of the PumpDrive variable speed system for centrifugal pumps. It adjusts the flow rate to the actual demand to keep energy costs to a minimum.
The integrated wireless module allows users to connect to a smartphone via Bluetooth. There is also a free My PumpDrive app in English, French and German which KSB says makes servicing easier and commissioning of the pump much faster.
All PumpDrives for motor ratings from 0.37 to 55 kW come in the same design and can be mounted directly on the motor, on the wall or in a control cabinet. Up to six PumpDrives can be combined into a controlling unit via plug-in bus lines.
KSB will also be displaying the Pump Operation Check. This is a service which interprets the load profiles determined by the PumpMeter pump monitoring unit and provides recommendations for action to increase the analysed pump's efficiency and availability. The measured data is read from PumpMeter without any impact on the operation of the system.
Experts from the German company will also be available to discuss the Industry 4.0 process and how their products integrate into a customer's digital production.
Hannover Messe runs from April 13-17.