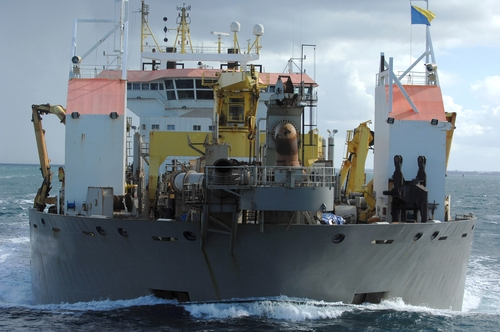 Ordered by a Belgian customer, the first ship, a trailing suction hopper dredger, will be fitted with six pumps. The five slurry pumps are manufactured by KSB's US subsidiary GIW. The pumps weigh 5,500 kilos each, are designed with three-vane impellers sized 835 mm in diameter and can handle slurry with a density of up to 1.3 tonnes per cubic metre, dredging almost 2,500 tonnes of solid material per hour from a water depth of up to 20 metres. Both casings and impellers are made of highly wear-resistant white cast iron.
A 160 kW Etanorm unit serves as a water jet pump providing the draghead nozzles with high-pressure water during the dredging operation. While the sand-gravel mixture is loosened with the help of powerful water jets, the slurry is transported into the hopper by means of large dredge pumps. During slurry discharge, the water jet pump helps to fluidise the hopper content again so that it can be pumped outboard by the dredge pumps.
The second ship, being built for a customer in the Netherlands, is a floating dredger which disposes of its slurry charge via a discharge pipe of up to 1,500 metres using two specialised pumps operating in series which pump the slurry to an on-shore separation plant. Both pump units have a weight of 5,400 kilos each and have also been manufactured at GIW in Georgia/USA. The design utilised is submersible and features a high-pressure casing, an impeller and a liner made of a highly wear-resistant white cast iron. In addition, the ship will be equipped with two 160 kW water jet pumps and three high-pressure pumps which supply the gland packings of the large-sized dredge pumps with barrier fluid.