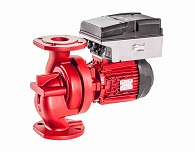 The PumpDrive Eco features sensorless differential pressure control which comes preset for use with the Etaline L. All key parameters relating to pump and motor data are also set at the factory. This reduces the time required for pump set commissioning.
There are optional wireless Bluetooth modules for permanent installation along with Bluetooth couplers. These can be plugged onto the service interface of PumpDrive Eco from the outside. The myPumpDrive app enables users to communicate with the system and adjust settings via a smartphone.
The app's commissioning wizard supports the installation of basic functions such as discharge pressure control or differential pressure control. Users also have access to the frequency inverter via the app and can thus optimize the pump system to their specific requirements.
The PumpDrive Eco transmits process variables such as differential pressure or pump flow rate to a higher-level control station as analogue 4 - 20 mA output signals; this information is now also available in the form of 0-10 V signals. Any warnings or alerts that may occur can be reported via normally open contacts now fitted in the variable speed system. As PumpDrive Eco features vector control with selectable motor control method, it can be operated with asynchronous and synchronous reluctance motors.