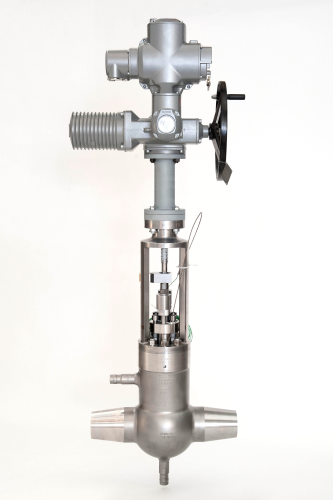 As part of the '725 HWTII' project, KSB Aktiengesellschaft has successfully tested a high-performance gate valve at the "Großkraftwerk Mannheim (GKM)" power plant. The gate valve is designed for a new generation of fossil-fuelled power stations with improved efficiency achieved by using steam temperatures above 700 °C. Two prototypes from the ZTS valve range have successfully completed a test period of almost two years, continuously operating at 725 °C.
Developed at KSB's Pegnitz site, the gate valve's basic design has proven its worth for decades in a huge number of power plants. It features a billet-forged body, a split wedge serving as a shut-off element and a pressure seal bonnet. The design has been optimised to match the power plant's specific operating conditions. For example, the new design features a spherical body which helps to reduce thermal stresses. Extended yoke arms protect actuators from the potentially negative effects of the hot fluid.
Positive experience
The main valve components are made of nickel base alloy 617 B. Positive experience has already been gained with this material during a previous research project carried out at the GKM plant. However, machining of this material is much more complex when compared with conventional materials.
The electrically and manually actuated gate valves with a nominal size of 100 mm are installed in a central steam pipeline downstream of a special superheater. The objective of the current test series is to establish the valves' operating limits under extreme operating conditions. Based on these results, KSB intends to design and build components for a new generation of commercial power plants operating at steam temperatures of above 700 °C. Alongside valves, the Mannheim test loop also puts further components and materials required to operate at this new type of power station through their paces.
'Power station 2020+' is the banner under which energy suppliers and representatives from industry come together to discuss how more electricity can be generated with the same amount of coal while minimising CO2 output. Work on CO2 capture and storage is also currently underway. In terms of start-up and shutdown conditions, the new generation of power plants will also be more flexible and, consequently, able to respond more effectively to fluctuations in demand than existing plants.