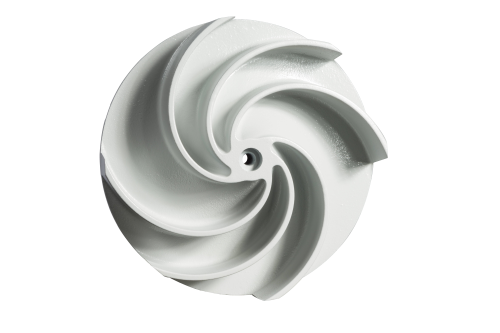 The F-max impeller incorporates different distances between its blades, which are arranged in groups with two small and two large distances. The asymmetrical blade arrangement is designed to offer wide free passages, ensuring that large rigid solids pass and are handled reliably by the pump. The blades can create a swirl in the hub area which shifts fibres away from the impeller hub and transports them to the outside.
Further balancing is no longer required since the radial forces and vibrations created by the new impeller are usually lower than those of single-channel impellers; the service life of shaft seals and rolling element bearings is increased as a consequence.
When rotating, free-flow impellers develop a strong swirl which keeps the solids in the pump casing suspended and, in combination with the inclined suction area, generates an additional flushing action – significantly reduces the risk of clogging in the impeller's centre.